MiG-29 service centre to open in India in 2015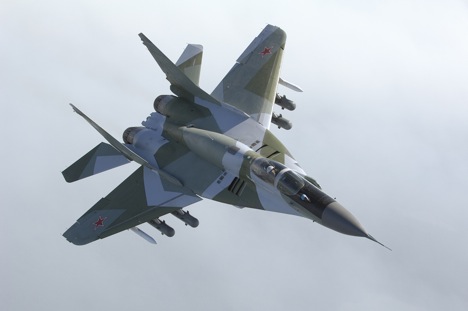 The second contract of $12 million involves the creation of a service centre for the repair of equipment for the upgraded aircraft MiG-29 in India. Source: MiG Corporation
The centre will refurbish airborne radar systems and service aircrafts such as the MiG-29UPG and MiG-29K/KUB.
A service centre for MiG-29 aircraft will be operational in India from next year, Sergei Korotkov, chief executive officer of Russian Aircraft Corporation (RSK) MiG told reporters.
"This year we have already provided equipment for this onsite service centre, which was built as part of the agreement, and, starting next year, this service centre should operate in accordance with the contractual obligations that were taken by both sides," Korotkov said.
Itar-Tass had reported during the MAKS-2013 air show that MiG signed two additional agreements worth $55 million with India's Basant Aerospace Private Limited as part of a general offset contract with India.
The first contract (worth $43 million) provides for the establishment of a service centre in India for the restoration and repair of the Zhuk-ME airborne radar produced by Fazotron-NIIP. The second contract (of $12 million) involves the creation of a service centre for the repair of equipment for the upgraded aircraft MiG-29 in India.
The centres will conduct refurbishment of airborne radar systems and aircrafts such as the MiG-29UPG and MiG-29K/KUB and will provide advisory services for Indian technical staff. A MiG representative said the next step calls for the creation of a consignment warehouse for aircraft spare parts in India.
Russia, India to receive deck fighters
Korotkov added that MiG would deliver ten decked MiG-29K/KUB fighters to the Russian Navy by the end of the year. He added that six such combat aircrafts will also be delivered to the Indian Navy. In 2013, the Russian Navy and the Indian Navy received four and seven MiG-29K/KUB respectively.
In February 2012, the Russian Ministry of Defence placed the order for the MiG-29K/KUB fighters. The agreement covers the supply of 20 single MiG-29K combat aircrafts and four double MiG-29KUB. In November 2013, it was reported that under this contract all combat aircraft must be delivered to the Russian armed forces by 2015.
All Russian carrier-based fighter MiG-29K/KUB will be assigned to the 279th Regiment of the Russian Navy, for use on the Admiral Kuznetsov aircraft carrier. Today, this air group comprises ten Su-33 heavy carrier-based fighters and two Su-25UTGs. In 2015, the Su-33s will be replaced by the MiG-29K/KUB aircrafts.
In mid-February 2014, Deputy General Director (Finance) of MiG, Sergey Mamaev, said that by 2017 the corporation intended to double aircraft production.
Based on articles first published by Itar-Tass and Lenta.ru.
All rights reserved by Rossiyskaya Gazeta.