India to be self-reliant in butyl rubber – Sibur India CEO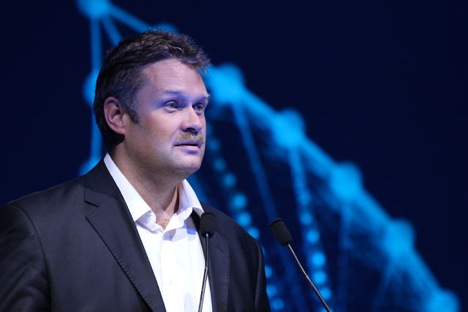 Evgeny Griva: "We are using a unique solution polymerization technology in Jamnagar. It is consistent in product quality and is also eco-friendly since it uses non-toxic solvents." Source: WOC «SIBUR Petrochemical India Private Limited»
The upcoming synthetic butyl rubber plant will have a capacity of 100,000 tonnes, easily meeting India's demand of 60,000 tonnes.
India is likely to save around $360 million in synthetic butyl rubber imports once Sibur's joint venture with Reliance Industries starts production by the end of next year, Evgeny Griva, chief executive of Sibur Petrochemical India told IANS in an interview.
"Sibur believes that once production begins at Jamnagar, India will stop importing butyl rubber," Griva told the news agency. He added that India's current imports were estimated at 60,000 tonnes per annum as against the plant's capacity of 100,000 tonnes.
The joint venture, Reliance Sibur Elastomers will be the first manufacturer of butyl rubber in India. At present India's demand for butyl rubber is created mainly by the tyre industry and is fully supplied by imports from North America, Central Asia and European countries, including Russia.
Sibur estimates medium-term growth in demand for butyl rubber in India at around 6.3 percent per annum, primarily on account of the country becoming a manufacturing hub for small cars, the report added. "Production of small cars in India increased eight percent last year and is expected to maintain the same growth rate over the next there years. We anticipate a similar growth in demand for butyl rubbers as in tyre production," Griva told IANS.
The Sibur India chief told the news agency that Russia has a leading position as a supplier of butyl rubber to the global market. "We are using a unique solution polymerization technology in Jamnagar. It is consistent in product quality and is also eco-friendly since it uses non-toxic solvents," Griva told IANS.
Reliance Sibur Elastomers Private Limited was formed in the beginning of 2012, although the project was announced earlier in 2010 during a visit of then-Russian president Dmitry Medvedev to India. RIL holds a 74.9 percent stake in the joint venture, while Sibur enjoys a 25.1 percent share.
Sibur owns 22 production sites across Russia, supplying more than 2,000 customers in the energy, automotive, construction, retail and other industries in over 60 countries. In 2011, the company generated approximately $1.9 billion in net income on nearly $7.7 billion in revenue, according to the company's financial report. Bloomberg estimates Sibur is worth more than $12 billion.
All rights reserved by Rossiyskaya Gazeta.