Good prospects for two-way investment flow – P S Raghavan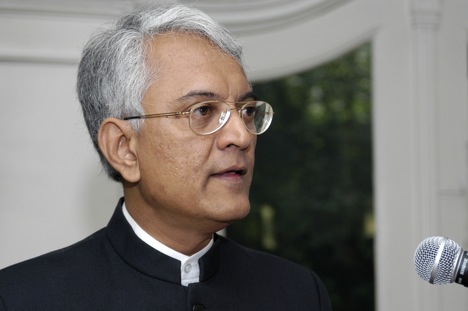 Ambassador Raghavan made it clear that India would not support any sanctions on any country that were not approved by the United Nations. Source: Embassy of India in Moscow
The Indian ambassador to Russia tells Interfax that the key areas of economic cooperation between India and Russia are infrastructure, oil and gas, energy, pharmaceuticals, communications and IT.
Although there was a fall in bilateral trade in 2013, there are already signs of growth, India's ambassador to Russia, P S Raghavan told Interfax in an interview. "Our investment cooperation is also showing a strong tendency for further development, and we see good prospects for growth in investment flows in both directions," the Indian ambassador said. Bilateral trade between India and Russia fell to $10 billion in 2013 from $12 billion a year earlier. Raghavan said the fall was "primarily due to global economic processes."
While highlighting economic initiatives, the Indian ambassador said the two countries "are trying to expand bilateral exchanges of information concerning industrial opportunities and prospects for business." Raghavan cited the example of the India Trade Show exhibition, which will be held in September 2014. He added that talks were on for greater economic engagement between India and the Customs Union of Russia, Belarus and Kazakhstan. "We are in close contact with the Eurasian Economic Commission with the goal of developing tighter economic cooperation between India and the Customs Union, and in the future – the Eurasian Economic Union of Russia, Belarus and Kazakhstan," Raghavan told Interfax.
When asked about India's participation in the upcoming St Petersburg Economic Forum, Raghavan said the government presence would be reduced since the country would be in the process of forming a new government. "However, this should not be seen as a sign that we do not attach great importance to the event," the ambassador said.
Crisis in Ukraine
When asked about the situation in Ukraine, the ambassador said India was concerned about the violence and loss of life in the country. "We call for restraint and a fair and permanent diplomatic resolution to all the issues between the participating countries via constructive dialogue," Raghavan told the news agency. "A resolution to the internal Ukrainian conflict must be implemented by taking the interests of all sections of the Ukrainian population into consideration."
The ambassador also made it clear that India would not support any sanctions on any country that were not approved by the United Nations.
Raghavan also said a working group under the India Russia Inter-Governmental Commission discussed the possibility of the two countries switching to trade in their own currencies and bypassing hard currencies.
The ambassador told Interfax that the visa on arrival scheme that India plans to launch for foreign nationals, including Russians should help increase tourist traffic, but added that the visa procedures were already simplified. "We issued about 200,000 visas to Russians in 2013 and we hope for a significant increase in that figure during 2014," Raghavan said. "We know that Goa is a popular tourist destination for Russians. Along with that, we hope to attract them to the other, no-less-beautiful places in our country."
All rights reserved by Rossiyskaya Gazeta.