India looks to step up economic ties with Tatarstan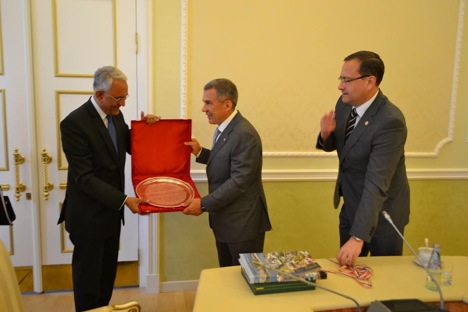 P.S. Raghavan (l) met the President of the Republic of Tatarstan Rustam Minnikhanov (c). Source: Embassy of India in Moscow
Pharmaceuticals, information technology, transport, petro-chemicals and tourism identified as key areas of cooperation between India and the Russian internal republic.
Eyeing greater economic cooperation with one of Russia's most prosperous republics, India's ambassador to Russia P.S. Raghavan led a delegation comprising of officials and businessmen to Tatarstan's capital Kazan last week. The business delegation, accompanying the ambassador, comprised of the companies working in the areas pharmaceuticals, information technologies, chemical and paints, engineering, machinery building and education, the Indian Embassy in Moscow said in a press note.
Raghavan met the President of the Republic of Tatarstan Rustam Minnikhanov and discussed bilateral cooperation in trade and investment, science and technology, culture, education and tourism. The embassy said pharmaceuticals, information technologies, transport especially automobile, petro-chemicals and tourism were identified as the sectors with considerable potential for enhancing bilateral cooperation.
The Indian ambassador and the delegation also visited the Technopark in Kazan, which promotes and develops IT entrepreneurships, the Kazan Helicopter factory which manufactures the Mi-17 helicopters for the Indian Air Force and the Indian Cultural Centre at the House of People's Friendship.
At the Kazan Federal University, the Indian delegation discussed cooperation in education, including students and faculty exchanges and organization of summer schools and workshops. Raghavan attended the 200th anniversary celebrations of Kazan State Medical University and interacted with the Indian students studying in the University. 283 Indian students are enrolled in KSMU, the embassy said.
"The government of the Republic of Tatarstan expressed keen interest in cooperating with Indian entrepreneurs, companies and investors and assured their support and assistance to companies for establishing their businesses in the Tatarstan," the Indian embassy said in the press note.
The embassy added that Tatarstan is a fast-growing and dynamic region of Russia which presents considerable opportunities for Indian companies in the areas of petro-chemicals, transport, information technology and pharmaceuticals. Alabuga, a special economic zone provides attractive investment opportunities for industrial projects.
All rights reserved by Rossiyskaya Gazeta.