Global growth requires rise in both developed, emerging economies – Indian SPIEF delegate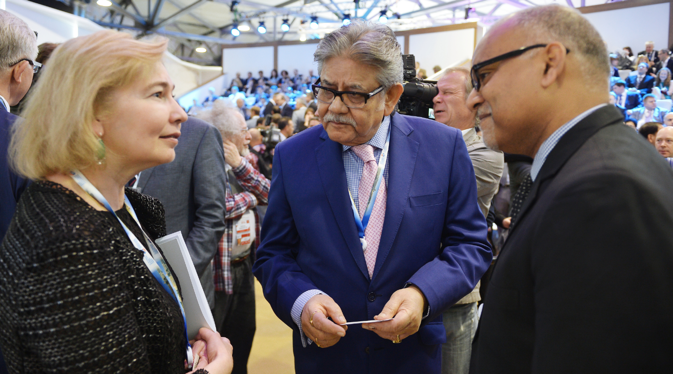 Sumit Mazumder, President Designate, Confederation of Indian Industry, center, during the Global CEO Summit, part of the 17th St. Petersburg International Economic Forum. Source: RIA Novosti / Vladimir Astapkovich
Sumit Mazumder, CII's president designate, says infrastructure development is one of the key factors providing for economic growth.
Sustainable global growth requires both emerging and developed economies to move forward, President Designate of the Confederation of Indian Industry Sumit Mazumder said during the St. Petersburg International Economic Forum (SPIEF).
"It's important that emerging economies also are moving forward along with the developed economies," he said, stressing that while the developed economies showed signs of recovery recently, the emerging markets are still struggling.
"Unfortunately the emerging economies haven't done so well, they are still struggling. Obviously for the world to move forward you cannot have only the developed economies moving ahead, and developing economies moving back," Mazumder said. "We need an inclusive and positive growth of all economies – developed or emerging," he added.
To achieve growth in emerging economies Mazumder said proper investment is required. And national governments should encourage long-term foreign investments by ensuring on proper regulatory frameworks, investment protection mechanisms, taxation and transparent corporate governance.
According to Sumit Mazumder, infrastructure development is one of the key factors providing for economic growth, so that governments should look into the issue and create conditions encouraging foreign direct investment into infrastructure projects.
"We need strong cooperation between developed and developing nations to achieve sustainable growth in the long-run," Mazumder concluded.
Scaled down Indian presence
As India is in the process of government formation at the moment, the country just sent a delegation of 12 people for this year's SPIEF. In 2013, the Indian delegation was led by the then Indian Minister of Trade and Industry, Anand Sharma and comprised of the captains of Indian industry in including Kris Gopalakrishnan and Kiran Mazumdar-Shaw.
"We attach great importance to the St Petersburg Economic Forum. Therefore, as a demonstration of this importance, in previous years, our delegation to this forum was chaired by the Minister of Trade and Industry," Indian ambassador to Russia P.S. Raghavan said last week. He added that since the government formation process was going on, it was "practically impossible" for any of the Indian leadership to attend the event this year. "However, this should not be seen as a sign that we do not attach great importance to the event," Raghavan said. "Moreover, for a variety of industrial and commercial associations in India, this will be a priority time to initiate dialogue with the new government on its policies in these sectors. For this reason, even the representatives of these associations cannot attend the SPIEF in the numbers that they had before."
Based on an article first published by RIA Novosti.
All rights reserved by Rossiyskaya Gazeta.