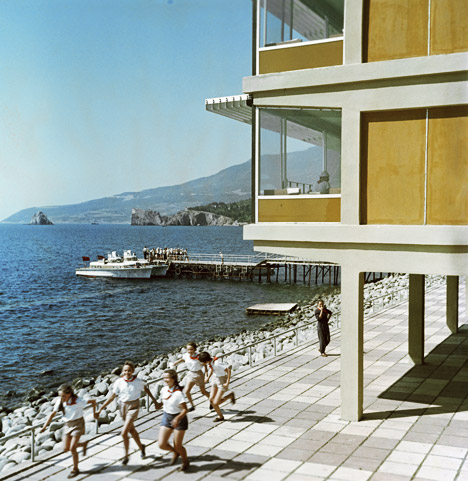 Children at the international children's camp Artek in Crimea, in summer 1963. Source: Petrusov / Ria Novosti
In the Soviet era, as now, summer camps for children existed to give kids something to do during school holidays.
The first camps were established in the 1920s by the initiative of the Russian division of the Red Cross. Under this initial program, students from the city traveled to camps in the country where members of the Pioneers — a sort of Communist scout program — offered help to local residents and taught classes for rural children. The first and most famous camp of this type was the Artek camp, which opened in 1925 in Crimea, and is still in operation today.
By the end of the Soviet era, there were more than 40,000 children's camps, which welcomed up to 10 million children every year. These camps mostly functioned under the sponsorship of major factories and enterprises and provided summer programs for children of factory workers. In the 1990s, however, most of these companies were on the verge of bankruptcy, and the camps were closed.
In recent years, a new kind of children's camp has opened to appeal to the rising Russian middle class, who can afford to send their kids on a two-week adventure where they will receive in-depth training on a variety of topics and a Michelin star chef will prepare their meals.
This July, a new camp for children is set to open in the town of Borodino outside Moscow. Called The Village, the project was created by prominent public figures, bloggers and journalists, including Philip Bakhtin, the former editor of the Russian edition of Esquire magazine. Every day, the program in the camp is dedicated to a specific form of art such as film, music or painting.
The children will be fed by Anatoly Komm, the only Russian restaurateur to earn a Michelin star. The cost of a two-week trip to this camp for children is around 37,000 (about $1,000), and within days of opening its registration period, the camp received 3,000 applications.
The financial backers of the project intend to open 25 more camps across Russia by 2018. They are planning to invest around 3.7 billion rubles (about $100 million) into each camp.
According to investment firm Finam Holding, the number of children's camps in Russia is growing by 10–15 percent per year. There is even a special search engine for camps based on the popular travel search website booking.com — incamp.ru.
The website contains information on more than 800 programs and allows parents to filter results by price, age, rating and theme.
Themed camps are one of the hottest trends in the market. One camp, on the shore of the White Sea in Karelia, is dedicated to the study of nature of the Russian North. A camp with a special dance curriculum is located at Lake Seliger, about a four-hour drive from Moscow in the Tver Region.
Room to grow
According to Roman Grinchenko, an analyst with InvestCafe, this kind of camp has the greatest possibility of return on investment because there is so little competition. These projects could potentially also attract children from other countries.
"Given the fact that at the moment the number of foreign customers is minimal, if we execute this project competently, we can expect to attract students from other countries," Grinchenko said.
Currently, most of the foreigners at Russian children's camps are teachers, especially given that language camps — particularly those that focus on English — are extremely popular among Russian parents.
The Orange children's camp outside St. Petersburg offers English teaching jobs to young foreigners who want to spend a summer in Russia. The jobs pay only $700 for two weeks, but room and board are covered.
London native Houssam Alissa taught English at a similar camp in 2013. "Language camps are a fantastic way for kids to pick up English," Alissa said. "The atmosphere is so vibrant and full of fun. You get to have vocabulary games that involve running around outdoors, tearing cards from trees; you get to go for improvised hikes, getting kids to scribble 'pinecone' in their notepads as you come across one in the shade of the pine forests. And even though the English lessons were always the 'boring part' of the day (the kids get to go swimming, play volleyball and enact TV quizzes the rest of the time!), I think everybody had fun and loved the experience."
One significant obstacle to the development of camps in Russia is the complexity of the legislative regulation, said Galina Dekhtyar, a professor at the
Russian Presidential Academy of National Economy and Public Administration. In particular, there are laws regulating how many teachers should be in the camps, where camps can be built and even the type of lease
agreement.
Despite this, Finam analyst Maxim Klyagin said that the interest of investors in this segment in recent years has grown significantly. "A new factor of attractiveness is now, first of all, the emergence of a strong demand from consumers," Klyagin said. "A relatively low price for comparable quality makes such trips quite attractive."
He especially sees room for growth in camps that cater to expat children and are aimed at helping them adapt to Russian language and culture.
The main driver of growth in this market is the willingness of parents to spend money on their children. According to the Juvenile Products Manufacturer's Association, Russian parents generally spend $1,000 per child per year. This is half what American parents spend, but the gap is rapidly shrinking. Last year, Russia became the largest market in Europe for children's goods.

All rights reserved by Rossiyskaya Gazeta.