Russia planning to place three GLONASS ground stations in India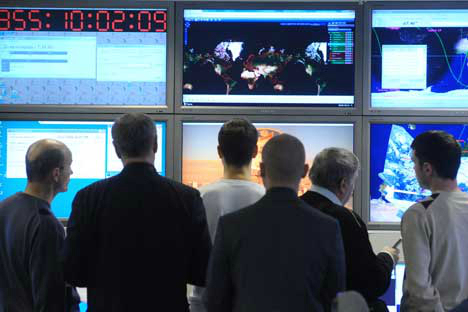 India has been using GLONASS technology for over the last few years. Source: Itar-Tass
A senior Roscosmos official also said the agency would like to see GLONASS navigation equipment manufactured in India.
Russia and India may sign an agreement for the deployment of three GLONASS stations in India, Sergey Savelyev, deputy head of Roscosmos told the GLONASS Herald magazine.
The countries may sign such an agreement after a GLONASS delegation visits India in June or July, according to Savelyev. "After that, I hope, we will sign a joint protocol, and then we can start making concrete decisions on cooperation, including the placement of Russian GLONASS stations in India," he said.
In addition to placing ground stations in the country, Roscosmos would also like to see GLONASS navigation equipment being manufactured in India.
"We would like to place our own GLONASS ground stations here, as well as jointly produce user equipment and work together on the implementation of technologies such as the ERA-GLONASS. It would be interesting to create a joint venture in India," Savelyev said.
India's GLONASS connections
India has been using GLONASS technology for over the last few years. GLONASS satellites have been launched from the country and the Indian armed forces used GLONASS military signals. When GLONASS opened its showroom in Mumbai in September 2012, its Deputy Chief Designer Igor Kuznetsov told RIR that Indian citizens were already unknowingly using the Russian technology. "The iPhone 4s supports GLONASS technology, so you already use GLONASS in India," Kuznetsov said. "Every manufacturer of chip sets like Qualcomm, Broadcom, STMicroelectronics, use 2-system chipsets, use both GLONASS and GPS...They already have this in their product line."
In December 2013, it was reported that the Russian government is seriously considering the possibility of selling a stake in the development of the GLONASS system to foreign countries, among which India would be given a priority. "We have prioritized the countries -firstly the states where GLONASS may be required for geopolitical reasons," Navigation Information Systems (NIS, formerly NIS GLONASS) Chief Executive Alexander Gurko said. "We could invite India, Kazakhstan, Brazil, South Korea and several other countries into the consortium."
This is one area of cooperation that is likely to get a boost this year and a major agreement on GLONASS could be signed later this year when Russian President Vladimir Putin visits India for the 15th annual India-Russia summit.
All rights reserved by Rossiyskaya Gazeta.