Pakistan unlikely to get access to sensitive Russian technologies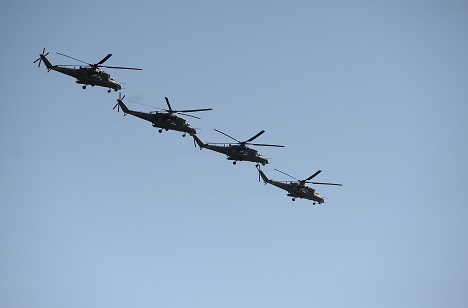 Mi-35 helicopters. Source: RIA Novosti
Senior experts believe that Moscow is likely to slowly increase defence cooperation with Islamabad, but that is unlikely to affect Indo-Russian strategic ties.
Pakistan, which is looking to buy Mi-35 helicopters from Russia, is unlikely to get access to sensitive technologies.
Ruslan Pukhov, head of the Centre for Analysis of Strategies and Technologies told RIR that certain technologies like those required for creation of supersonic cruise missiles like the BrahMos would not wind up in Pakistani hands. Russia will also not lease nuclear submarines or share design technology used for the fifth generation fighter aircraft (FGFA), he added.
It was widely reported that Russia was going to lift an arms embargo on Pakistan, but both Rostec Chief Executive Sergey Chemezov and Russian Ambassador to India, Alexander Kadakin denied that such an embargo was ever in place.
Chemezov indicated this week that Russia was looking to supply Mi-35 helicopters to Pakistan. Although India has not officially commented on the development, there has been a mild frenzy in the Indian media.
The Rostec head and Anatoly Isaykin, head of Rosoboronexport are in Delhi for the next two days for official meetings that will be headed by Indian Defence Secretary R. K. Mathur. India is Russia's primary strategic partner in the defence sector and is the biggest buyer of Russian arms. New Delhi also has extremely tense relations with Islamabad. Experts believe that a big part of the Isaykin-led talks will focus on Russia's plans with Pakistan.
While India might object to Russian defence ties with Pakistan, analysts believe that there will be some level of engagement between Moscow and Islamabad. "Why not actually," asks Ruslan Pukhov. "Delhi calmly looks at cooperation between Washington, Paris and several other arms exporters with Islamabad. They buy their weapons. And when it comes to us, there are some grudges arising?"
He adds, that in the last few years, India has acquired the C-130J-30 Super Hercules military transport aircraft from the U.S, P-8I Poseidon patrol aircrafts, it also plans to buy Harpoon II missiles and C-17 Globemaster III transporters.
No threat for Russia-India military-technical cooperation
The diversification of Indian procurement has led to Russia dropping out of the tender for the supply of the light fighter. The transaction price could have been as high as $1.5 billion for the supply of 126 jets. MiG-35, which was leading during the entire time, but was recognized as "unfit" at the last moment, when the Europeans promised to give India the production technology for their war machines. A tender for helicopters was also lost: India opted for the American AH-64 Apache and CH-47 Chinook.
At the time, Rosoboronexport stated that these losses would not affect the overall cooperation between Moscow and Delhi. Russia and India have a number of strategic projects for joint development of the FGFA Т-50 fighter. The Indian aircraft's preliminary flight is scheduled for 2015. New Delhi intends to purchase 250 FGFA totaling $25 billion.
A contract for the supply of a batch of 40 Su-30MKI fighters is being executed. In addition, after the successful flights tests on the INS Vikramaditya aircraft carrier, India agreed to purchase 29 MiG naval fighters in addition to the 16 previously built MiG-29K as part of the ship contract. MiG is also executing a contract to modernize 63 Indian MiG-29B fighters according to the MiG-29UPG standard, which will extend the fighters' service lives by another 20 years.
During the two-day talks in Delhi, Rosoboronexport is likely to hold talks on upgrading of the infantry fighting vehicles BMP-2, T-72 and T-90S previously supplied to India and discuss the tender for the supply of self-propelled artillery, which involves an upgraded 155-mm self-propelled howitzer MSTA-S, undergoing testing in India. The howitzer's chassis has a high degree of commonality of components and units with the T-90S tanks' chassis, whose licensed production has already been mastered at the Indian Heavy Vehicles Factory.
"All of this suggests that the prospects and common interests in the military-technical cooperation between the two countries remain in place," says Professor Academy of Military Sciences Vadim Kozyulin.
Nevertheless, the professor believes that Moscow is fully free to build military-technical relations with other countries, especially because in recent years, Russia and Pakistan have been engaged in a dialogue. For example, President Vladimir Putin has supported Islamabad's application to join the Shanghai Cooperation Organization (SCO) and announced Pakistan as Russia's important partner in South Asia and the Muslim world.
High-level Indo-Russian diplomatic engagement
This year will be one of the most intense ones for the Russian-Indian relations. After Anatoly Isaikin's visit, Defence Minister Sergei Shoigu will visit Delhi in September; in December, President Vladimir Putin is expected in the Indian capital. Ruslan Pukhov is confident that these talks will have mutually beneficial results, especially because a wonderful background has been created for this in India.
Recent elections in the country have changed the balance in the parliament from "pro-American" to "pro-Russian." The old partners have no choice but use this to their advantage.
All rights reserved by Rossiyskaya Gazeta.