Kudankulam-1 reaches 100 percent capacity, focus now on unit 2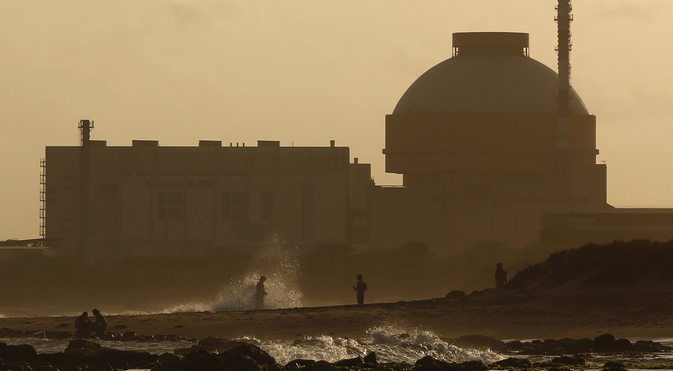 Russia is keen to see the second unit attain criticality and come live. Source: Reuters
Commercial operations from the first unit will commence by the end of June. Russia is keen to see the second unit attain criticality.
The first unit of the Russian-built Kudankulam Nuclear Power Plant (KNPP) reached 100 percent capacity on Saturday, June 7. "At 13.20 hours today, Unit I of Kudankulam Nuclear Power Plant started generating its full capacity of 1,000 MW of power, the plant's site director R.S. Sundar told PTI news. "We will run it for some more time before we stop the unit for conducting some tests as mandated by AERB (Atomic Energy Regulatory Board)."
Sundar told PTI that "all the parameters of the reactor are working satisfactorily and are stable."The unit is now the largest power generating unit in India and will start commercial operations by the end of the month.
"I am really proud of this achievement of our engineers, technicians and officers who have done everything in the book to realise this full power generation at Kudankulam-1," India's Atomic Energy Commission Chairman R.K. Sinha told The Hindu. "It is a great moment not only for our people, but also for the country."
Russian eyes on second unit
Russia is keen to see the second unit attain criticality and come live, according a report in the Indian Express.
The paper cited a June 4 Rosatom statement where the company's general director Sergei Kiriyenko held an official meeting with Russian Prime Minister Dmitry Medvedev and said the schedule for this "is more defined by the customer," Nuclear Power Corporation of India Ltd (NPCIL). Kiriyenko told Medvedev, "but we understand the precise work we must complete," according to the paper. Work on the second unit is going on at a rapid pace and it should attain criticality in a few months.
Rosatom could also look at a process of short-listing a few Indian equipment vendors for future nuclear power projects being jointly planned in India, the paper said, citing NPCIL sources.
The Kudankulam units comprise of 1,000 MW reactors of the VVER-1000 model being constructed by the NPCIL and Russia's Atomstroyexport company, a Rosatom subsidiary.
India signed a contract with the Soviet Union to build the Kudankulam plant in 1988, while the actual construction started only in 1997 due to due to the political and economic upheaval in Russia after the collapse of the Soviet Union in 1991.
Although, the plant has faced foreign-backed protests in safety issues, leading Russian, India and international scientific experts have vouched for the safety of the project. The experts have maintained that superior technology and exceptionally high quality equipment used in the reactors at the project made them unique in the global nuclear industry. KNPP is the first pressurized water reactor that belongs to the light water reactor category in India.
All rights reserved by Rossiyskaya Gazeta.