Russia could divert funds from Europe to India - Report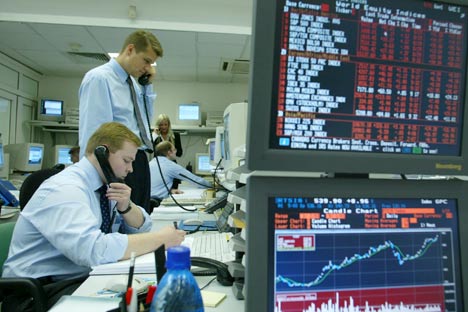 Russia is keen to work with India on changing the bilateral investment treaty to encourage and safeguard mutual investments. Source: Itar-Tass
Russia is looking at both investments as well as joint-ventures in India and the ideas are likely to be discussed when Dmitry Rogozin visits India, and taken forward when Narendra Modi meet Vladimir Putin at the BRICS summit in Brazil.
Keen to divert funds away from Europe as it faces a looming threat of sanctions, Russia is likely to shift money from the continent and offer it to India via investments and joint ventures, the Economic Times reported on Monday. Such offers are likely to be discussed during Dmitry Rogozin's June visit to India, according to the paper.
Rogozin, who will arrive in Delhi on June 18, will likely meet Prime Minister Narendra Modi, External Affairs Minister Sushma Swaraj and Finance and Defence Minister Arun Jaitely.
The ET cited sources as indicating that Russia is eager to divert some of its funds from Europe following deterioration in ties between Moscow and the European Union in the wake of the Ukraine crisis. The paper added that Putin would propose such investments for India during his meeting with Modi at the BRICS summit in Fortaleza, Brazil on July 15. Major energy deals could also be on the cards, according to the report.
Revision of bilateral investment protection agreement
ET added that Russia is also keen to work with India on changing the bilateral investment treaty to encourage and safeguard mutual investments. The Indo-Russian Bilateral Investment Promotion and Protection Agreement (BIPA) was signed in 1994 and came under scrutiny when Sistema faced issues with its CDMA licenses in India.
After the Sistema imbroglio last year, Russia said it wanted the BIPA to be suitably amended with unambiguous safeguards to protect large scale Russian investments in telecom sector in India.
India and Russia signed the BIPA in December, 1994 and enforced it from August 1996. New Delhi had signed BIPA agreements with many countries in 1991 after the then-Finance Minister Manmohan Singh introduced a set of economic reforms. India has signed BIPAs with 82 countries out of which 72 are in force.
The primary objectives behind such treaties was to promote and protect the interests of investors of either country in the territory of the other country and increase the comfort level of the investors by assuring a minimum standard of treatment in all matters and providing justifiability of disputes with the host country.
All rights reserved by Rossiyskaya Gazeta.