Russia chooses partners for new rating agency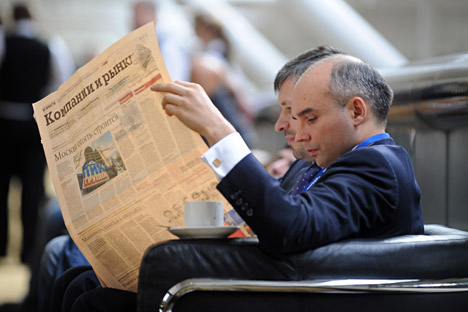 The partners have presented the new rating agency as "an agency outside politics." Source: ITAR-TASS
Russian Finance Minister Anton Siluanov said the country would set up a rating agency along with China's Dagong Global Credit Rating Co and the USA's Egan-Jones Ratings. The new agency will be set up with inputs from prominent UK financier Richard Hainsworth.
New player
Universal Credit Rating Group, a new rating agency, which is ready to compete with Moody`s, Fitch, and Standard & Poor`s, will be set up as a joint venture between the Russian agency RusRating, the Chinese Dagong Global Credit Rating Co, and the U.S. Egan-Jones Rating. Russia has decided against joining the ARC Ratings international agency, which unites the national rating agencies of Portugal, India, South Africa, Malaysia, and Brazil. According to Russian Finance Minister Anton Siluanov, the new agency will use the same instruments and criteria for assessing country and regional investment projects as used by the existing rating agencies.
In an earlier interview with RIR, RusRating managing director Aleksandr Zaytsev said there was no direct link between the creation of a new rating agency and the Ukrainian crisis or the Russian-Chinese agreements. "The first signs indicating that the rating industry was in need of a revamp emerged long before the events in Ukraine, specifically at the height of the world financial crisis in 2008, when U.S. companies, having top ratings from the big three agencies, began to go bust," he said.
From the start, the partners present the new rating agency as "an agency outside politics." Anton Soroko, an analyst with the FINAM investment holding company explains: "The influence of American rating agencies on investors' portfolios is too great, which allows them to manipulate the public opinion through over- or underrating." He is convinced that, for the sake of more objectivity, the leaders need other international competitors, whose ratings would provide investors with an alternative view of an asset. Furthermore, looking forward, consolidation of an agency like this with its U.S. counterparts could achieve the desired effect, i.e. create a united supranational group, free from political pressure."
"Given the composition of its participants, the new agency is likely to gain the status of an apolitical organization, which would provoke international investors' interest in its work," says Vadim Vedernikov, deputy head of the analysis and risk management department at UFS IC. According to him, the fact that Russia in this project is represented by RusRating is probably due to its former head Richard Hainsworth and his earlier agreements on partnership with Chinese and U.S. colleagues.
Influential founders
In 1996, UK financier Hainsworth became head of the Russian branch of Thomson Financial BankWatch, a major international bank rating agency, which was later acquired by Fitch. In 2001, Hainsworth, with support from Citibank, founded a rating company Global Rating International Ltd, within which that same year the RusRating agency was set up. Later Hainsworth set up similar agencies in other former Soviet Union countries. In particular, in 2006, KzRating was founded in Kazakhstan and AmRating in Armenia. All the agencies are national rating agencies and form part of the GlobalRating group. According to RIR sources, Hainsworth is currently one of the leading experts on credit risks in Russia. In 2004, he initiated the establishment of an association of certified financial analysts in Russia (CFA Russia) and was elected its first president. However, in late 2013, Hainsworth left RusRating in a move which has been interpreted by market players as linked to change of ownership at the agency.
Experts point out, in order to compete with the Big Three (Standard & Poor's, Fitch, and Moody's), the new agency will have to spend a lot of time establishing interaction with international partners. "The main strength of international rating agencies is reputation, which takes years to build. Whereas both Dagong Global and RusRating were set up relatively recently, so it is quite logical that not all foreign investors are ready to trust these agencies' ratings," says Investcafe analyst Mikhail Kuzmin. However, he adds, if Russian-Chinese cooperation expands further, then at first the new agency's ratings could be used in joint Russian-Chinese projects.
All rights reserved by Rossiyskaya Gazeta.