India's petroleum minister calls for greater energy ties with Russia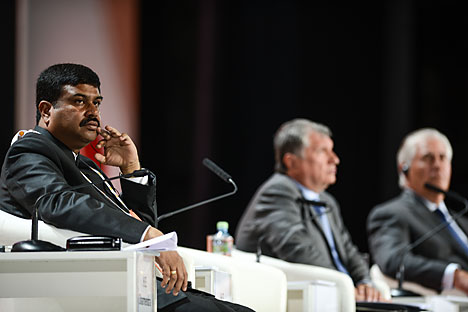 Indian Petroleum and Gas Minister Dharmendra Pradhan during the 21st World Petroleum Congress held at Crocus Expo International Exhibition Center. Source: Vladimir Astapkovich / RIA Novosti
An Indian delegation is taking active part in the ongoing World Petroleum Congress in Moscow.
Speaking at the World Petroleum Conference in Moscow on Monday, June 17, India's petroleum minister Dharmendra Pradhan called for stepping up energy ties with Russia, Mint reported on its website.
"Russia has always been a longstanding, time-tested friend and a strategic partner and energy is an essential element of our relationship, and we look forward to working further in this sphere," Pradhan was cited by the paper as saying.
The 21st edition of the World Petroleum Congress commenced on Monday and will end on June 19.
The congress has been held once in three years since 1933. The last edition was held in Qatar in 2011. The congress is organized by the World Petroleum Council, which has its head office in London. 69 countries are member of the council, which admitted Ukraine last year.
Despite sanctions on Moscow over Crimea's reunification with Russia, Western companies decided to not boycott the congress. "Only Canada's Alberta Province (the country's main oil producing region) has declined to participate in it," an official at the forum organizing committee told Itar-Tass.
Over 4,000 delegates, among them 30 ministers and 400 top managers and heads of sector organizations from more than 80 countries, are participating in the Moscow congress, the World Petroleum Council reports.
Notwithstanding the already paid fee for participation, a Ukrainian delegation is unlikely to be present at the Moscow Congress, since the only member of its delegation has fallen ill, an official at Ukraine's national organizing committee told Itar-Tass.
Large companies such as ONGC, Chevron, ExxonMobil, General Electric, Siemens, Total, Saudi Aramco, and Petrobras regularly participate in the Congresses.
The list of participants in the Congress in Moscow include: Robert Dudley, Executive Director of BP, Abdalla Salem El-Badri, OPEC Secretary-General, Petrobras President Maria das Gracas Silva Foster, Maria van der Hoeven, Executive Director of the International Energy Agency, executives of the Norwegian Statoil Company and Rex Tillerson, Chairman of the Board of Directors of the Exxon Mobil Corporation.
Russian Minister of Energy Alexander Novak told Itar-Tass, "The petroleum industry is one of the most dynamically developing sectors of the world economy. The Congress provides a fine opportunity for specialists from various countries to share advanced experience and get an expert assessment of the most acute problems of the present-day oil and gas industry."
Materials from an article published by Itar-Tass were used in this article.
All rights reserved by Rossiyskaya Gazeta.