Russia may propose India gas pipeline deal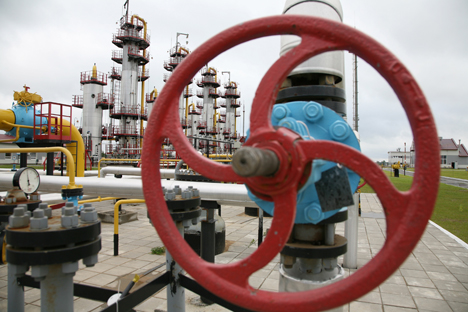 Moscow has invited New Delhi's participation in gas and oil projects. Source: ITAR-TASS
The two-countries are also considering long-term liquefied natural gas supply and gas-swap deals.
Russian President Vladimir Putin may propose the extension of a Russia-China gas pipeline to India, the Business Standard reported on Wednesday. The pipeline from Russia to India via China's Xinjiang province could cost up to $30 billion, the paper added.
The two-countries are also considering long-term liquefied natural gas supply and gas-swap deals, if the pipeline does not work out, according to the report.
"It is going to be a physical challenge to bring a pipeline from China to India through the Himalayas, so a route via China is impractical," Debasish Mishra, senior director, Deloitte India told the paper. "On the other hand, any pipeline through Central Asia is a challenge because it has to cross Afghanistan and Pakistan. The possibility of LNG imports or swap deals would be more viable for India."
Last year Russia liberalized the process of exporting LNG, opening up foreign markets to competitors of Gazprom, which had until recently enjoyed a monopoly. LNG projects in Russia are just being developed, but subsidiaries of Gazprom are already supplying liquefied natural gas to India, albeit in small quantities.
Russia is developing three major LNG projects, and at least two of them - Sakhalin and Vladivostok - will focus on Asian markets. The third, the Yamal LNG, will also look for customers in that part of the world, although it is more focused on markets west of the Urals because of the difficulty of navigating along the Northern Sea Route in an easterly direction.
Moscow has also invited New Delhi's participation in oil projects. ONGC Videsh Ltd (OVL) has a 20 percent stake in the Sakhalin-1 project and also owns Tomsk-based Imperial Energy. Last year, Rosneft offered a stake in 10 offshore blocks to OVL. Nine exploration offshore blocks are in the Barents Sea and one in the Black Sea.
India's petroleum minister Dharmendra Pradhan met Russia's energy minister Alexander Novak on the sidelines of the 21st World Petroleum Conference in Moscow. Concrete proposals for greater energy cooperation are likely to be presented by Vladimir Putin to Narendra Modi during the BRICS summit that will be held in Brazil on July 15.
India's energy demand is expected to more than double by 2035, from about 700 million tonnes of oil at present to around 1.5 billion tonnes.
All rights reserved by Rossiyskaya Gazeta.