Indian diamond traders look for direct tie-ups with Russia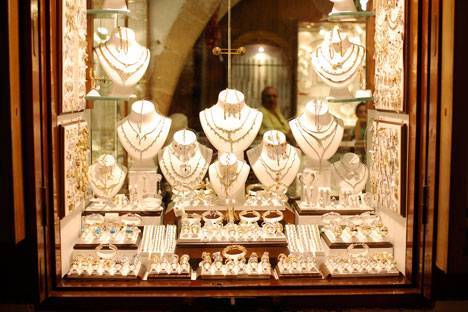 Analysts believe there is a lot of potential for Indian jewellery companies to establish themselves in Russia. Source: PhotoXpress
Trade sources told an Indian newspaper that supply of roughs from Russia to Dubai and Belgium could be severely impacted if the US imposes economic sanctions.
With a looming threat of economic sanctions on Russia, India's gem and jewellery traders are looking to establish direct contacts with the country to source rough diamonds, the Hindu Business Line reported on its website. Trade sources told the paper that supply of roughs from Russia to Dubai and Belgium could be severely impacted if the US imposes economic sanctions.
In 2013, India imported 163.11 million carats of roughs worth $16.3 billion, and exported 36.46 million carats of polished diamonds worth $20.2 billion, the paper said, adding that direct imports of rough diamonds from Russia stood at just $767 million. India has a major cutting and polishing industry with cities like Surat and Jaipur being major centres. Direct supplies of rough diamonds from Russia to India could boost trade in the industry to $5 billion, the paper said, citing sources.
The paper cited Vipul Shah, Chairman, Gem and Jewellery Export Promotion Council, as saying that it was in India's interest to source diamonds directly from Russia. He told the paper that Russia was looking at selling roughs directly to China and Dubai, and had signed agreements to explore the possibility.
Russia's burgeoning retail jewellery market
Russia could also be a major retail market for Indian finished jewellery. The Russian jewellery retail industry is growing with annual turnover estimated to reach around $16 billion. Indo-Russian trade in gems and jewellery trade is well below potential. Analysts believe there is a lot of potential for Indian jewellery companies to establish themselves in Russia through distribution and marketing offices, considering the heavy import duties and very limited local manufacturing in Russia.
Gems and jewellery constitute 17 per cent of India's total exports and the sector employs 1.5 million people.
Alex Popov, the President of Moscow Diamond Bourse, told RIR at an exhibition in Mumbai in late-2012 that Russia was a promising market not only for exports from India but as a platform to create joint manufacturing units. "Indian technology is very advanced; add some Russian quality control and such a joint venture would be successful. Moreover, such joint ventures can also export jewellery to CIS countries where the demand for good quality jewellery is growing." Popov told RIR.
All rights reserved by Rossiyskaya Gazeta.