Sivathanu Pillai authors book on BrahMos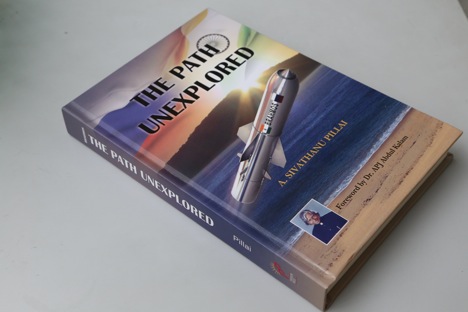 'The Path Unexplored' by Dr. A.P.J. Abdul Kalam. Source: Alessandro Belli
'The Path Unexplored' was released this week at the BrahMos Headquarters in New Delhi. The book's foreword was written by former Indian President Dr. A.P.J. Abdul Kalam.
Dr. A. Sivathanu Pillai, the chief executive of BrahMos Aerospace, now has a book to his credit. 'The Path Unexplored,' is dedicated to the history of the formation, development and prospects of the joint Russian- Indian project to develop cruise missile weapon complexes for different types of platforms
"This book spans the journey of BrahMos that made India a world leader in missile technology with the fastest, high precision supersonic cruise missile, realized in short time with a novel collaborative effort between India and Russia," Pillai said. The book also throws light on how under strict sanctions from the West following India's 1998 nuclear tests, India developed technologies in-house to cater for all its requirements, he added, while calling the US-initiated sanctions as a "blessing in disguise."
The book reveals the uniqueness of the BrahMos system, which can be launched from land, sea and air against various targets. Pillai also writes about the Indo-Russian venture's unique experiences which show how Team BrahMos overcame many hurdles and succeeded in all its trails under various circumstances. A special emphasis is made on India's quest to become self-reliant in defence equipment production.
"The Joint Venture BrahMos signifies great friendship and trust between India and Russia in high technology cooperation," former Indian President Dr. A.P.J. Abdul Kalam wrote in the book's foreword. "The best talent from both nations have been pooled together to achieve the supersonic cruise missile which has outsmarted the developed world. I was always longing, when India will become the first nation to possess the most advanced system in the world. BrahMos made India proud by making it the first nation to have a universal operational supersonic cruise missile delivered to the Indian Armed Forces thereby demolishing the Sixth Nation Syndrome. There is no equivalent operational system elsewhere in the world to have speed, precision and power and the universality demonstrated by BrahMos."
The former president adds, "I also know that we started BrahMos with a mere $300 million investment by both countries and today the business of the company has crossed $6 billion. My desire is now to see the BrahMos business crossing beyond $ 10 billion and to achieve a unique status in the world, connecting the oceans and making new strategic partners beyond the borders."
In his foreword, Dr Kalam was lavish in his praise of Pillai and his "great leadership in bringing out BrahMos from mind to market, integrating the best brains of India and Russia and multiple institutions and industries."
All rights reserved by Rossiyskaya Gazeta.