Indra-2014 drills ended successfully in Russia's Far East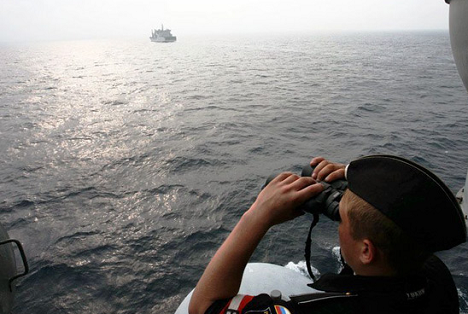 A signal watchman of the guided-missile cruiser "Varyag" during the Russian-Indian naval exercise Indra-2014 held in the Sea of Japan. Source: mil.ru
Eight warships and vessels, deck helicopters and warplanes of maritime aviation participated in naval drills.
Russian-Indian international naval drills Indra-2014 ended in Russian far eastern city of Vladivostok. "Russian and Indian naval sailors fulfilled all tasks completely," head of the press service of the Russian Pacific Fleet Captain First Rank Roman Martov told Itar-Tass on Sunday.
At the final meeting aboard the guards missile-carrying cruiser Varyag Assistant Commander of the Pacific Fleet Rear Admiral Andrey Ryabukhin noted that interoperability and trust between two fleets reached a very high level.
For his part, Commander of the Indian Eastern Fleet Rear Admiral Atul Kumar Jain said at this meeting that naval sailors had acquired a very good experience and were on the way back home with the positive mood. He also praised Russian crews for their high morale and professionalism. Meanwhile, the naval leadership noted well-co-ordinated work of both countries in foil weather. Despite the fact that heavy rain has hit Russia's Primorsky territory during the active stage of naval exercises all tasks of the naval exercises were fulfilled completely.
The farewell ceremony of Indian warships was held after the results of naval drills had been summed up.
The active stage of the naval drills was held from July 17 to 19. For this period of time warships of the two countries held artillery gunfire drills, deck aviation drill, air defence drill, detected and destroyed a submarine of a conventional enemy, passed a mocked mine field and have searched through a suspicious vessel. Meanwhile, naval sailors of the two countries gave aid to the 'damaged' ship and lifted 'injured' people from the water who were made of dummy figures.
Guided missile destroyer Ranvijay, frigate Shivalik and supply vessel Shakti were participating in naval exercises from India. Missile cruiser Varyag, big anti-submarine ship Admiral Vinogradov and big amphibious assault ship Peresvet represented Russia at joint naval drills. Maritime aviation was also used in military exercises.
Eight warships and vessels, deck helicopters and warplanes of maritime aviation participated in naval drills.
Naval exercises Indra are held alternately in Russia and India since 2003. In the autumn of the previous year India hosted these naval drills. Then military forces of the two countries have spotted and destroyed 'illegal armed units' in semi-deserted location.
First published by Itar-Tass.
All rights reserved by Rossiyskaya Gazeta.