Russian metals in your smartphone
For the benefit of iPhone users, we would like report that this device is as thin and compact as it is largely thanks to the achievements of the Russian metals and chemical industries. Russia exports the chemical element tantalum, which makes it possible to produce very small batteries, explains Alexander Volzhinsky, chief project engineer with the Informzashchita company.
Apple purchases rare-earth and precious metals from 11 Russian enterprises (according to the company's report submitted to the U.S. Securities and Exchange Commission). Eight gold processing plants, including the Moscow plant for processing special alloys, supply Apple with gold for coating the connection ports of tablets, smartphones and other gadgets.
In 2013, Russia exported $526-billion worth of goods, including $371-billion worth of oil and gas. The remaining $155 billion is made up of manufactured goods.
In addition, the U.S. corporation purchases tungsten and tin from Russian producers. Tin, for instance, is used for welding small parts together.
According to an RIR source, Russian non-ferrous metals are in demand not only by Apple. For instance, gold, tin and tungsten are supplied to the American company Lear Corp, which produces car and aircraft seats and components, batteries, electric circuits, etc. The same components are used by the U.S. supplier of GPD navigators Garmin Limited.
Russian titanium under aircraft wings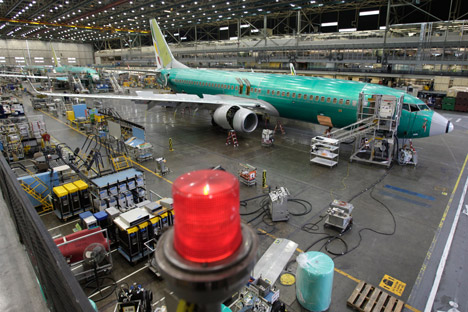 The American Boeing Company buys 40 percent of the titanium needed for the production of its new Boeing 787 airliner from the VSMPO-AVISMA. Source: AP
The other major consumers of Russian metals are two aircraft-manufacturing giants, Boeing and Airbus. To make their aircraft, they need titanium. This is a unique metal, strong and light and at the same time high-melting and resistant to corrosion and heat - essential qualities for aircraft components.
When you board an aircraft, you may have seen door and hatch trims made with titanium. The floor of the cargo bay is also made of the metal, as well as parts of the outside of the aircraft body – the turbine blades, sections of the wings, and chassis components.
Russia has the world's second largest (after China) titanium reserves. Its biggest producer of titanium alloys and titanium items is VSMPO-AVISMA, a key supplier to foreign aircraft manufacturing giants, which also includes Canada's Bombardier Aerospace among its clients. Airbus covers 60 percent of its titanium requirements with Russian supplies; Boeing, 40 percent.
VSMPO-AVISMA refused to disclose profits and supply volumes under its current agreements, saying it was a commercial secret. However, the company's titanium sales have nearly doubled since it signed a $4 billion contract with Airbus in 2009: from 21 billion rubles ($603 million) in 2010 to 42.7 billion rubles ($1.2 billion) in 2013, according to the company's financial reports.
Pressed into shape, Russian-style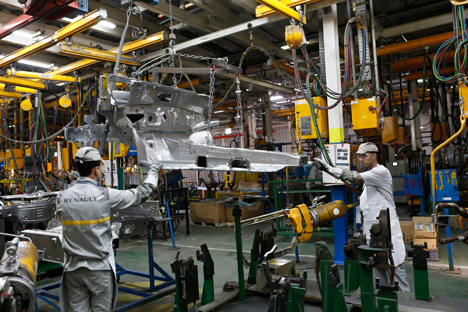 The Renault plant in Moscow produces about 180 thousand cars per year. Source: AP
Another Russian product is used in stamping French and Japanese vehicles into the form we are all used to. Car doors, roofs, hoods, and trunks are all pressed from metal sheets with the use of heavy mechanical presses made by Russia's only specialist enterprise in this sector, Tyzhmekhpress (TMP).
These presses are used in 54 countries around the world, including at the Renault and Peugeot plants in France and the Toyota and Mitsubishi plants in Japan, as well as by Samsung in South Korea (a domestic market make) and Tata Motors in India.
"Europe's biggest forge, Forges de Courcelles (in France), which services the whole of Europe's automotive industry, is fully fitted with our machinery," the Russian company's representatives say. Overall, there are 20 types of presses that are used to make vehicle body components, ten of which have been designed by the Russian company.
TMP's gross profits in 2013, according to the company's annual report, amounted to some 104.3 million rubles (about $2.9 million). The company has refused to disclose the volume of its supplies abroad.
The reflection of far-away stars in Russian glass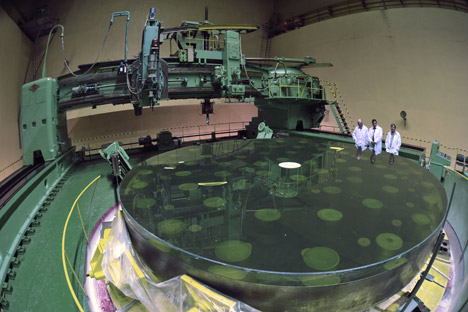 Polishing the mirror of the Large Altazimuth Telescope at the Lytkarino Optical Glass Factory. Source: Ramil Sitdikov / RIA Novosti
When admiring the stars through the telescope of the Royal Observatory in Greenwich, spare a thought for skilful Russian workers, without whom you would not have been able to see the distant planets.
The main two-meter-diameter mirrors for three British telescopes were made at the Lyktarino optical glass factory (LZOS), as were a set of astronomical mirrors for the Chinese Academy of Space Technology (primary mirror of the telescope, 1.23 meters in diameter) and the Heidelberg–based Max Planck Institute for Astronomy (Germany).
The company also produced primary telescope mirrors (2.6 meters in diameter) for the VST project in Italy (the VLT Survey Telescope (VST) at the Naples Observatory) and a 2.3-meter diameter mirror for the National Observatory in Athens. According to a company source, LZOS accounts for nearly 30 percent of the total world market of large-size optics.
The RIR source explains that to manufacture large-size glass items, a transparent, strong, and very light (lighter than aluminum) material called sitall, which also has an ultra-low coefficient of thermal expansion, is used. It speeds up mirror production considerably.
There are only two companies in the world that have the technology for producing sitall; one of them is Russian. The company's representatives were unavailable for comment.
In addition to telescope lenses, LZOS also manufactures military equipment, including day and night vision devices for armored vehicles, which are in demand by Russia's foreign partners.
All rights reserved by Rossiyskaya Gazeta.