Hypersonic missiles are the future for India and Russia – new BrahMos Chief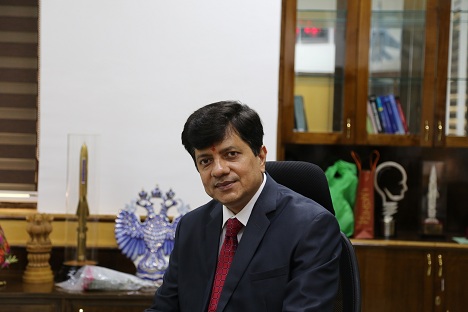 Sudhir Kumar Mishra, new BrahMos chief. Source: Alessandro Belli
In his first interview after being appointed chief executive of BrahMos Aerospace, Sudhir Kumar Mishra talks to RIR about the joint development of hypersonic missiles and export potential of BrahMos systems.
BrahMos Aerospace has already signed an MoU with the Moscow Aviation Institute on the development of hypersonic missiles There is need to sign some more agreements between India and Russia, isn't it? Can you elaborate on this?
Both India and Russia have successfully demonstrated that if they work together they can create systems unparalleled in the world such as the BrahMos. DRDO in India is working on the hypersonic field and Russia is also working on it.
We want to bring number of institutions from India and Russia together to realize the best possible configuration. As you rightly mentioned we have signed a MoU with MAI through our JV partners NPO Mashinostroyenia for initiating necessary actions. They are getting the required approvals from the government to start the work.
Similarly we are working with DRDO and Indian Institute of Science, Bangalore in this field. Once all the permissions are received from both the governments, we will initiate this project. Right now, hypersonic is an evolving technology and it is the future for both the countries. I believe that we will be able to develop the missile as per our Vision 2050, maybe within 6 to 10 years.
Are there any expectations how much time it can take to get all these approvals?
It can take from 4 to 10 months.
BrahMos Aerospace promised that the BrahMos-A missile for SU-30MKI would be ready for induction by 2016? Are these plans still on?
Yes, I confirm that by this year end, we would conduct the first flight test of BrahMos-A with SU-30MKI and we will start deliveries in 2016 to the Indian Air Force. Hindustan Aeronautics Limited, Bangalore and Sukhoi Design Bureau (SDB) with Indian Air Force are working very intensively to ensure that the missile flight test can be carried out by the year end and I am going personally this month to review the situation together with Chairman, HAL.
When is India planning to achieve 100 percent localization of BrahMos missile production?
As of now, we believe that it is a joint development programme. So the joint production also should take place in both the countries and we do not talk about percentage to develop the local production but the objective is to develop capacity building. The requirement, the demand is very high for BrahMos and right now, the objective is to deliver the missile in time to the users and if we do not deliver, then there is a problem. So we are trying to ensure the proportion, the agreed joint production ratio between India and Russia and make the delivery schedule. This is the first priority and only priority.
What we want is that 100 percent of the missile should be manufactured in India and 100 percent to be manufactured in Russia so that when big amount of deliveries are to be made, both the places can deliver but the capabilities should be available both in India and in Russia on 100 percent delivery basis.
And secondly, now there is an export potential for BrahMos. The government of India has declared that we would like to export our weapon system and India and Russia both have agreed that we will export the missile to mutually agreed countries we will identify together. So that would happen. When that happens, then there will be more demand for capacity building in both the countries, Russia as well as India. So we develop 100 percent capability, in Russia, you already have a 100 percent capability so that we can meet our commitments.
It takes some time. I have taken over only recently. I would like to study and then give answer exactly.
You mentioned the export potential of the BrahMos missiles. When are you planning to start exporting them?
First of all as per the IGA the missile can be exported to friendly countries of India and Russia. We have jointly worked out the list of countries. Export will be taken up on case to case basis with both the Indian and Russian governments for approval.
Secondly, the interest of India and Russia should not be affected in any way and thirdly, it should be only for defensive purpose, not for offensive purpose. So these are the basic fundamentals and we are talking to each other to ensure that export takes place but export is a very long process. So we are onto the process.
(Read the second part of the interview tomorrow)
All rights reserved by Rossiyskaya Gazeta.