India-Russia trade ties to receive big boost - analysts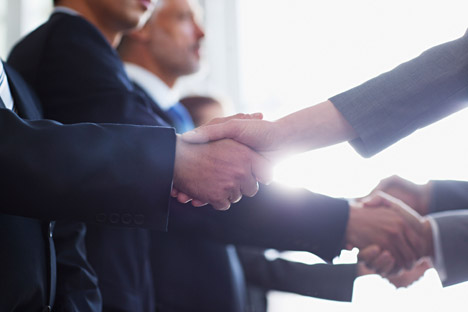 Russia and India are strategic partners. Source: Alamy / Legion Media
At a teleconference that brought together experts from New Delhi and Moscow, there was a consensus that bilateral trade would be diversified and expanded.
Russia and India are planning to diversify and expand trade ties at a time when the United States and the European Union are imposing economic sanctions on Russia over the crisis in Ukraine. Prospects for further cooperation were discussed by Russian and Indian experts at a Moscow-New Delhi teleconference on Tuesday.
"Our countries are strategic partners. The Indian side understands what is happening [in view of the situation in Ukraine] and has not joined sanctions against Russia," said Tatyana Shaumyan, head of the Center of Indian Research at the Russian Academy of Sciences' Institute of Oriental Studies.
She said it was especially important for Russia to cooperate within the BRICS grouping that comprises of Brazil, Russia, India, China and South Africa, as Europe and the United States were trying to escalate economic pressure on Moscow.
RIR columnist and head of the Asian Department at the Russian Institute for Strategic Studies Boris Volokhonsky said, "Russia and India have a number of long-term projects which can be implemented."
He added that the two countries were engaged in active negotiations about extending the Altai gas pipeline from Russia through China to the Indian border, and about building a pipeline to carry Turkmen natural gas across Afghanistan to Pakistan and India, known as the Turkmenistan-Afghanistan-Pakistan-India (TAPI) gas pipeline project.
India is interested in developing energy cooperation with Russia while the sanctions imposed by the United States and the European Union can give a new impetus to these relations, said Professor Arun Mohanty of Jawaharlal Nehru University (JNU).
"Besides energy, we can cooperate in industry, pharmaceuticals and diamond processing, and we should not forget about prospects in military and technical cooperation," he said.
"India supplies agricultural products to many countries," the professor added. "We can supply them to Russia as well, particularly fruit.
After enduring a few rounds of sanctions from the West over Russia's alleged role in supporting rebels in eastern Ukraine, Moscow hit back with a one-year ban on fruit, vegetables, meat, fish, milk and dairy imports from the U.S., the European Union, Australia, Canada and Norway.
India is seen as a potential supplier of buffalo meat, poultry, dairy products and nuts. Increased agricultural exports from India to Russia would help the countries get closer to their bilateral trade target of $20 billion.
First published by Itar-Tass.
All rights reserved by Rossiyskaya Gazeta.