Russia plans to modernise paratrooper unit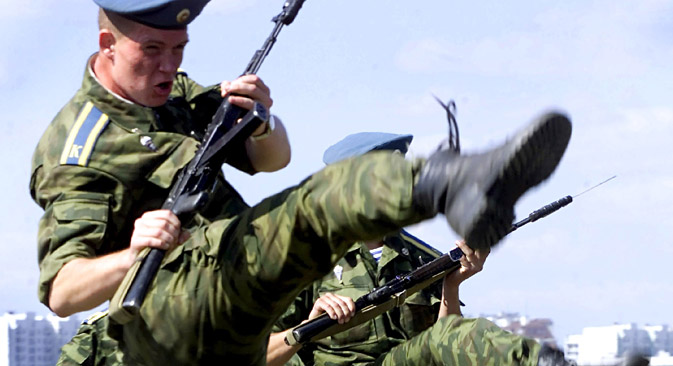 The Airborne Troops are the elite of the Russian Army. Source: Reuters
The airborne troops will receive more than 1,500 BMD-4M armoured assault vehicles by 2025 as well as around 2,500 Rakushka armoured transporters. The numerical strength of the unit will increase by a third.
Thanks to Russian Defence Minister Sergey Shoygu's new approach to military reforms, the elite paratroopers or Airborne Troops unit finally goes on offensive - the much-awaited process of reform of the Airborne Troops has begun.
Last autumn, the leadership of the 'blue berets' completed the realignment of their forces bringing two air-assault brigades that previously came under Army Command under their own leadership, and in doing so uniting all of Russia's assault units.
The Airborne Troops have their own rules, their own training schedule, as well as belief, which is not unfounded, that they are the elite of the Russian Army. This is reflected in the motto of this branch of the Armed Forces - 'No-one but us.'
The position that the Airborne Assault Forces in the Russian Army find themselves in today may be partly comparable to the U.S. Marine Corps. The latter are in essence a rapid reaction force. This is entirely applicable to Airborne Forces, according to their chief, Colonel General Vladimir Shamanov.
A new role for Airborne Troops
The mission statement for Airborne Troops is nevertheless completely different to that of the Marine Corps. The Russian troops are focused on sabotage behind enemy lines and are not capable, in contrast to the Marine Corps, of difficult and sustained defensive fighting and of storming heavily defended enemy positions. This is mainly due to their lack of equipment. The Marine Corps, on the other hand, have their own aircraft and some heavy artillery and even main battle tanks.
The equipment with the Russian Airborne Troops is restricted to what can be transported inside an aircraft. This is logical considering the size of Russia and her lack of a naval strength. All this however makes the Airborne Troops first and foremost an auxiliary branch of the Army, something that their leadership is not intent on coming to terms with.
"In the future we intend to build up the military presence and the combat potential of our troops, including going beyond our own borders," Commander Shamanov said. The new rapid reaction troops will have their own aircraft. Russian Helicopters "is already developing advanced helicopter systems, which is what the Airborne Assault Troops need," the holding's general director Aleksandr Mikheyev said.
The Airborne Troops have also been promised unmanned combat air vehicle technology.
Nothing has yet been said regarding tanks and heavy artillery, but the Airborne Assault Troops are looking to build up their traditional armaments. They will receive more than 1,500 BMD-4M armoured assault vehicles by 2025 as well as more than 2,500 Rakushka armoured transporters across various modifications.
The blue berets are set to increase in number
At present the force consists of around 35,000 men. A Ministry of Defence representative told Interfax that the numerical strength of the contingent will increase by around a third, and not two-fold as reported in some media outlets. There is however no point in expecting a large increase in Airborne Troops if the missions that they are able to carry out are restricted.
Light infantry, which in essence is what the Airborne Troops are, can take operational command from an alignment of troops with the entire array of required armaments. A mobile and fully equipped alignment would meet the challenge of combat activity both within its own territory as well as that of an enemy.
This challenge, which the present leadership of Airborne Forces is constantly trying to meet, has become particularly relevant taking into account recent events in Ukraine. Russian generals would need combat capable rapid reaction units to deal with surprise attacks. To counter enemy threats and to fight terrorism Russia will be relying on mobile, highly trained units that are always on alert mode.
All rights reserved by Rossiyskaya Gazeta.