Russia, India to construct passenger airliner - United Aircraft Corporation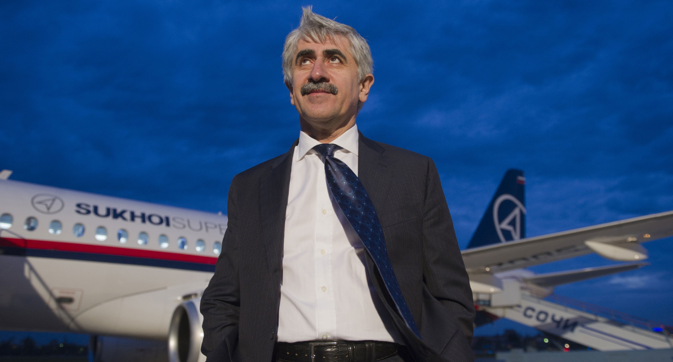 Mikhail Pogosyan, United Aircraft Corporation's President. Source: Sergey Guneev / RIA Novosti
The proposal to assemble Sukhoi Superjet 100 and Irkut MS-21 passenger jets in India was first discussed at a meeting of the IRIGC-TEC in Moscow last year.
Russia's Sukhoi Aviation Holding Company (JSC) and its Indian partners plan to embark on the joint construction of multipurpose transport airliner, United Aircraft Corporation's President Mikhail Pogosyan told RIA Novosti.
"In 2013 we finished the stage of preliminary design. Today we are at the stage of discussing further implementation program and shifting to engineering development," Pogosyan said.
He added that the final schedule has yet to be defined "based on the talks that will be held between us and our colleagues."
The proposal to assemble Sukhoi Superjet 100 (SSJ-100) and Irkut MS-21 passenger jets in India was first discussed at a meeting of the Russian-Indian Intergovernmental Commission on Trade, Economic, Scientific, Technical and Cultural Cooperation (IRIGC-TEC) in Moscow last year.
Analysts believe that the assembling the Russian passenger jets in India could cut production costs per plane by 40 percent.
The SSJ-100 is a medium-haul passenger aircraft capable of carrying 75-95 passengers, developed by the Sukhoi Corporation in cooperation with US and European aerospace companies. The MS-21 is a family of twin-engine jet airliners still under development by the Irkut and the Yakovlev design bureau, part of Russia's United Aircraft Corporation. It has a capacity of 150-212 passengers.
The cutting-edge technologies, being the core ingredient of the SSJ-100 Project, penetrate its every stage – from design and development to final assembly, delivering a modern, economically efficient and globally marketable aircraft.
The then Russian President Dmitry Medvedev first offered India joint production of five types of passenger aircraft including regional SSJ-100 airliners, in December 2011, saying the two countries could benefit in this from the accumulated experience in the development and production of combat jets.
India has a long history of building Soviet and later Russian aircraft under license at Hindustan Aeronautics Ltd (HAL), going back to the MiG-21 in the 1960's, but has only assembled military types. HAL is currently license-building the Russian Su-30MKI strike aircraft in India.
Sukhoi - is Russia's major aircraft holding company, employing more than 26,000 people. 100 percent of stock of the Sukhoi Aviation Holding Company (JSC) belongs to the United Aircraft Corporation (JSC). The company supports a complete cycle of work in aircraft engineering: from front end engineering to comprehensive after-sales support.
First published by RIA Novosti.
All rights reserved by Rossiyskaya Gazeta.