It would be a mistake to say that the concept of housewife does not exist in Russia, but it is far from being a major trend. In India, Russian women married to Indians most often become housewives, especially at the initial stage of getting accustomed with a new life. However, the number of them joining corporate jobs or doing part-time projects or working with NGOs is growing. Few Russian wives even run their own businesses and inspire others to be brave and daring.
Russian style
Her day starts with laundry. Dozens of bed sheets and towels travel from her salon to her home, then go for bleaching, cleaning, drying. The same procedure has been followed every single day for last five years. "I want to be sure that hygiene standards are met. This is something I cannot compromise on," says Yuliya Pednekar, the owner of Oracle Salon in the Mumbai suburb of Malad.
It took her a long time to get the courage to open her own business after coming to Mumbai from Almaty, Kazakhstan, with her Indian husband in 1997. A graduate in hospitality management, she kept searching for opportunities, and finally got into the beauty sector, first as make- up artist and then as a hair stylist.
"I didn't have any education or training as hair stylist when Lakme offered me the job. They convinced me that I'll manage," she recalls. "Well, I messed up a couple of times initially, but I believe a common sense of aesthetic helped me a lot."
After six months of working for Lakme, Pednekar didn't feel satisfied and went to Kazakhstan to study hair dressing. The education gave her not only new opportunities back in India, but greater level of self-confidence. In the last couple of years, she obtained the international CIDESCO and CIBTAC certificates. "My aim was to be independent from my husband, financially and practically, realizing my potential, skills, talents and knowledge," Pednekar says.
Today she is the managing a salon, leading a team of five beauticians. Although her husband is a proprietor of the company in paper, he hardly interferes in her business. "He deals with all paperwork, taxes and formalities, of course. With my artistic personality and chaotic work-style, I would not be able to do such work," she says. "There are other elements that disturb business, too, starting from BMC officials to quasi-mafia collecting funds for religious festivals and political parties. I learned how to deal with them with help of my husband."
Being a foreigner doesn't make it more difficult for Pednekar to run her business. Fluent in Marathi and Hindi, she manages her employees and customers with great ease. "Sometimes people are confused seeing a firangi, but the moment you relate yourself to them discussing kids or Punjabi outfits, they accept you," she says.
Pednekar believes for many young girls whom she employs, this work offers a different experience from what they have elsewhere. "They feel safe and relaxed here, they explore the world through interacting with people," she says. "I respect them and trust them, although I know that bosses should behave differently, I just cannot".
Business with vision
Olena Paul, who hails from a Russian family settled in Donetsk, Ukraine, joined her Indian husband's company travel company in Cochin, Kerala, when her twins were still small. "I would leave home when they were still sleeping and come back when they are already asleep. My mother, who would come to India and stay with us, was taking care of kids," she says. Her twins are now grownups while her younger daughter is just six. "I decided that I want to see how she is growing, so I have to manage both taking care if her and doing business," Paul says.
About two years back Paul and her husband Sony quit the travel business and started a new venture.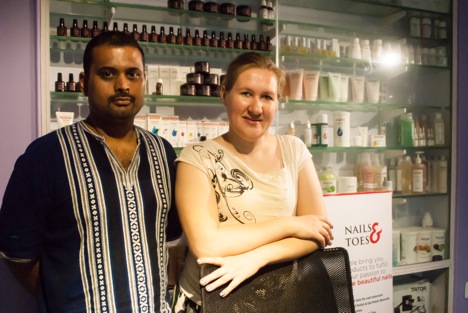 Olena Paul with her husband Sony. Source: Personal archive
"I was always keen on working with nails. I went back to Russia, then Europe to study to be a nail technician," Paul says. After coming back to India, she worked as nail artist in Cochin attracting top-level customers. As the trend was quite new in India, Olena faced the lack of affordable materials for nail art.
The business-minded couple decided to fill this gap creating their own brand of products for nail care and nail art – 'Nails&Toes.' They moved to Mumbai a year ago, opened an office-cum-training centre and are planning to start their own nail salon chain in future. Their company also promotes new for India industry of medical manicure and pedicure.
Olena and Sony Paul desire not only to run successful business, but provide a model to create women-entrepreneurs across India. Using their training facilities they are planning to cooperate with NGOs working with girls and women, victims of human trafficking and abuse, and provide them opportunity to lean nail art and medical manicure and pedicure techniques to become self-sufficient professionals.
Lights, camera, action
Natalia Arantseva, originally from Ufa, chose photography after working as an artist.
"This industry is very competitive, and being a lady, and a foreigner, is tough. There is a lot of prejudice towards women in this business, first of all from colleagues," she says. "When male photographers rent my studio, they always seek for some guy to adjust the lights. They just can't believe I can do it myself".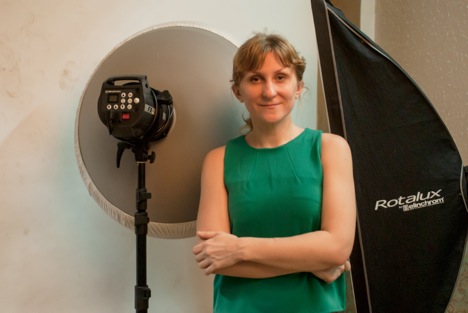 Natalia Arantseva. Source: Personal archive
On the other hand, she adds, when I shoot at the weddings, the guests are always very courteous with her, unlike with most male photographers.It took her some time to get used to India after coming here with her Indian husband. "Sitting at home? No, we all have more capacities for doing something bigger than that," she says. She opened a studio about five years back and is now specializing in family photo, art portraits, and wedding photography as well as rents out the studio. But her real passion is travelling. "Whatever I earn I spent for travelling," she confesses.
Natalia studied photography in one of the most popular schools in Mumbai, however, regrets the choice. "It was completely a commercial affair, and I came out knowing little. I made a lot of mistakes in building my business as a photographer initially. Later I went to Indonesia and studied under mentorship of Rarindra Prakarsa. This brought me to a new level of professionalism," Arantseva says.
She would like to open her own photo school, making it advanced and professional rather than commercialized. However, these are far-going plans which also compete with the idea of going back to Russia and staying there for a longer than just vacation time. "After so many years in India I now miss Russia - the air, the food, the culture," she says.
All rights reserved by Rossiyskaya Gazeta.