Foreign capital returns to Russia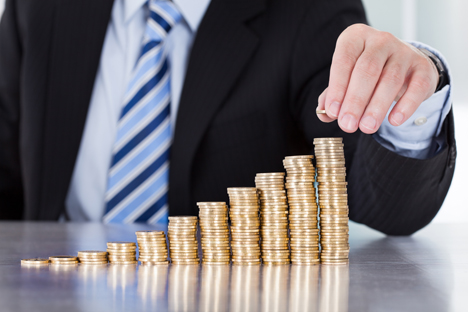 In comparison with other developing countries, the demand for Russian assets by foreign investors is recovering with a delay. Source: Shutterstock
Foreign investors and funds are less fearful of a Russian direct intervention in Ukraine, leading to an increased demand for Russian stocks.
Foreign investors have begun to invest anew in the Russian stock market. During the second week of August, the inflow of funds was recorded at $150 million, according to data from Emerging Portfolio Fund Research (EPFR). The inflow marks the first positive result in the past two months for the Russian bourse. Over the previous seven weeks, investors had pulled more than $500 million out of funds that invest in Russian assets.
The attitude of international investors began to change as the news flow surrounding Russia softened in tone. Late last week, MSCI Inc, despite apprehensions of market participants, retained shares in Russian state banks in their indices. This news had a positive impact on shares in Sberbank and VTB and their values grew to 5 percent and 4 percent respectively. According to a portfolio manager at Alfa Capital, Edward Harin, it was an effect felt generally throughout the market as fears eased concerning other companies, in relation to which sanctions had been imposed, being excluded from the indices.
Investors reacted positively to the Russian President Vladimir Putin's address to the parliamentarians in the Crimea. "A number of economists from large foreign banks interpreted the president's speech positively, focusing attention on the segment about being willing to do everything to end conflict," notes Denis Mukhin, the deputy director for asset management at Trifinco IG. "Foreign investors have begun to assess as extremely low the likelihood of any intervention by Russian troops in the armed conflict in Ukraine, which has determined the demand for Russian assets," said Dmitry Postolenko, a portfolio manager at the management company Kapital.
In comparison with other developing countries, the demand for Russian assets by foreign investors is recovering with a delay. According to EPFR, funds investing in developing markets raised $1.7 billion during the reporting week and nearly $19 billion over ten weeks. Funds focused on China ($530 million), South Korea ($335 million) and Taiwan ($211 million) became the leaders in attracting investment. "Investments are increasing in countries that show economic growth and political stability. Unfortunately, Russia has not been one of them over the past few months," says Yuri Selyandin, the senior portfolio manager at the GHP Group.
Based on material from Kommersant.
All rights reserved by Rossiyskaya Gazeta.