India starts testing North-South water transit corridor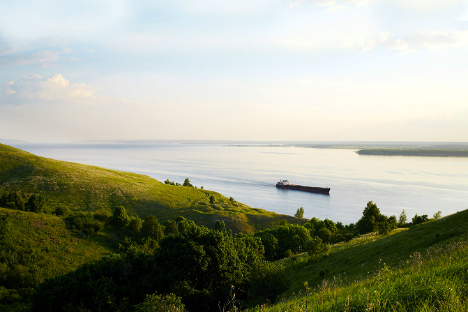 India will assess the readiness of the Astrakhan water-transport network for transit of Indian containers through the corridor. Source: Getty Images / Fotobank
A test container was sent to Astrakhan from India via Baku to study the feasibility of goods being shipped between Russia and India on the corridor.
India, with the help of Russia and Azerbaijan, has started testing the main routes of the North South International Transport Corridor in order to assess its cost-effectiveness and the possibility of Indian companies using the route for trade with former Soviet republics.
To test the route's readiness, Sohail Hassan, member of the advisory committee on the corridor of the Federation of Freight Forwarders Association in India visited Astrakhan with Ashish Sharma, the Assistant Secretary in the Embassy of India.
While the Indian representatives are in Astrakhan, a test container sent through the transport corridor, via Baku, is scheduled to arrive in Astrakhan. According to Russia's Southern Customs administration, they also intend to visit the Central Astrakhan cargo port, the VTS-port and the Olia port. They will participate in the meetings that are going to be held in the Russian Ministry of Industry, Transport and Natural Resources, talks with the Astrakhan customs management and the Astrakhan branch of Rosselkhoznadzor, Volga Railroad and TransContainer as well as a group of experts for container transport in the Astrakhan Chamber of Commerce.
Following the visit, the Indian side will assess the readiness of the Astrakhan water-transport network for transit of Indian containers through the corridor.
In 1999, a group of Indian, Iranian and Russian transport companies signed a general agreement on import and export transportation of containers in the Sri Lanka- India- Iran- Caspian Sea- Russia international transport corridor. The agreement determined the organization of the transportation, the duties of the parties to the agreement and the approximate rates and terms of passage of goods in 20 and 40-foot containers. During the implementation of the agreement in the period from 2000 to 2002, hundreds of Indian containers were sent along the corridor.
In February 2002, the Russian State Duma and the Federation Council of the Russian Federation adopted the Federal Law on Ratification of the Agreement on the North-South International Transport Corridor. However, due to many technical difficulties, the container transport along the corridor was restricted to the Russia – Iran – Russia route. Transportation of containers from India through Astrakhan has been frozen for 10 years.
In 2013, trade between Russia and India exceeded $ 11 billion, India ranks 18th among Russia's trading partners. The Indian Government has previously announced their plans to increase the trade turnover to $20 billion in 2015. The corridor is vital to cut transportation costs of goods between Russia and India.
First published in Russian by Svobodnaya Pressa.
All rights reserved by Rossiyskaya Gazeta.