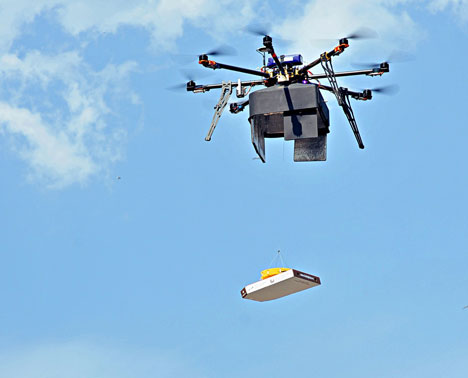 A Syktyvkar pizzeria, Dodo Pizza, has begun delivering food via flying robotic drones. The first delivery by drone took place on June 21. Source: Press Photo
All over the world, law-enforcement and judicial authorities are currently being inundated with drone-related cases. In the United States, there has been the case of photographer Raphael Pirker, who used footage taken by a quadcopter (a drone with four rotors) in a University of Virginia promotional video. In Ireland, meanwhile, a search is under way for smugglers who tried to use a drone to deliver drugs to a Dublin prison.
The transport prosecutor's office of Syktyvkar (the capital of the Komi Republic, 620 miles northeast of Moscow) has for the past two months been investigating a case of a pizza-delivery UAV (unmanned aerial vehicle).
A pizza attached to a drone was delivered to a customer in a park, but an alarmed eyewitness complained to the police about a possible violation of airspace. The prosecutor's office and the local division of the Gosavianadzor air transport regulator became interested in the case.
"We are doing everything to prove that a quadcopter only formally falls under the definition of an unmanned aerial vehicle but in fact is not one, on the strength of a number of characteristics, like its weight, size, and radio frequency," says the founder of the Dodo Pizza company, Fyodor Ovchinnikov.
"Since it is not a UAV, it does not fall under the Air Transport Code and does not require any special permission to fly," he said.
The transport prosecutor's office of Syktyvkar has closed the case, but Dodo Pizza still does not have permission to use UAV couriers either.
"The law in this country is not based on precedent, so even if that case had reached court and had been won by Dodo Pizza, it would not have legalized drones," explains a lawyer with the Ask & Win firm, Maria Vanina.
"On the contrary, the danger that such seemingly harmless incidents may end up in court should become food for thought to those who are considering using quadcopters in their operations."
Business outside the law
Under the Russian Air Transport Code, owners of unmanned aerial vehicles should obtain a permission for flying them from their local branch of the Federal Air Transport Agency (Rosaviatsia). In addition to the permission, a detailed flight plan also needs to be approved. Otherwise, a fine will be imposed: from 3,000 rubles ($83) for an individual to 500,000 rubles ($13,800) for a legal entity.
Having said that, legal technicalities are unlikely to impede the growing popularity of drones.
"We are actively taking pre-orders and already have over 500 bookings for delivering various cargoes with the help of quadcopters," says Oleg Ponfilenok, 27, who 18 months ago set up a delivery company in Syktyvkar called CopterExpress.
According to him, since the start of the summer the company lawyer has been studying the relevant regulations and believes that there should be no difficulty with obtaining a permission to fly: "After all, they have allowed it in the U.S., haven't they?"
Indeed, this year commercial use of drones was legalized in the United States. Over a year ago, the Federal Aviation Administration fined Raphael Pirker $10,000 for using a drone to shoot a promotional video. The photographer filed an appeal and won it, after which the National Transportation Safety Board ruled that no one is authorized to apply sanctions for the commercial use of drones since there are no relevant bans in the law.
"We don't have any other option anyway," says Ponfilenok. "We have invested quite a lot of money into this project, both our own and that of investors. The Dodo Pizza model alone cost us 10 million rubles ($276,500). So we cannot afford to give this work up."
Danger from above
However, designer Alexander Pologov, 30, who has just received a new quadcopter from Germany, is on the side of the law. "I'm convinced that using copters without a special permission is illegal. It is a rather complex thing from the technical point of view, which could just crash and somebody would get hurt," he says.
Pologov's plan is to offer exclusive aerial filming of the famous views of Moscow's Sparrow Hills. There are hundreds of newly fledged businesspeople who have decided to make money on quadcopters, and not only in Moscow but also in cities like St. Petersburg, Izhevsk, and Rostov.
"There are already not hundreds but thousands of copter operators," says Sergei Semyonov, coordinator of the Airpano aerial photography project.
"When we first started in 2010, there were simply no UAVs capable of carrying photo and video cameras, whereas now you can buy a small Chinese DJI quadcopter with a cheap camera for a mere 30,000 rubles and start shooting."
According to Semyonov, the use of drones may indeed be unsafe. "Before you start operating a quadcopter, you need to spend several dozen hours practicing on a simulator. But not everybody has the energy or the desire to do that," he says.
Pure gain
"Interest in quadcopters has been expressed by large private companies, which need them to protect their grounds, monitor production processes, deliver goods," says Pavel Ivanov, who runs a quadcopter assembly and maintenance project.
"In addition, government organizations and the military are interested too, for rescue operations, surveillance, delivering medicines and many other things."
The military, of course, operates on quite a different scale. In July, the Rostec state corporation presented Russia's first amphibious unmanned aerial vehicle, Chirok, intended for monitoring fires and patrolling.
It weighs about 880 lbs and is capable of carrying a payload weighing nearly as much.
Fyodor Ovchinnikov, meanwhile, is still rehearsing his arguments, even though the case against him has been dropped.
"If we were sending drones like that up into the sky without a permission it is one thing. As it is, we are just trying to use innovative technologies in our business, which, incidentally, is something that the authorities have been encouraging us to do," says the Dodo Pizza founder.
"So I hope that the commercial use of drones will not be banned. Let it be regulated, if necessary, but smartly, without any bans."
First published in Russian in Kommersant.
All rights reserved by Rossiyskaya Gazeta.