Russia offers to help repair India's Kilo class submarines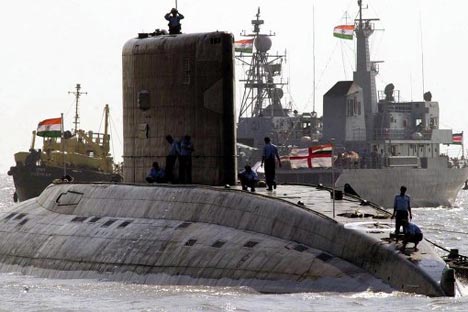 Since 1997, Zvezdochka has modernised five Indian diesel-electric submarines - Sinduvir, Sinduratna, Sindugosh, Sinduvijay and Sindurakshak. Source: AFP/ Sebastian D'Souza
Many of India's 9 diesel-electric submarines are in serious need of repair. Their service life could be extended up to ten years.
Russia expressed willingness to help repair all of India's Project 877 EKM (NATO reporting name Kilo) diesel-electric submarines. India has 9 such submarines, many of which are in need of repair, according to Andrey Baranov, Deputy Director of foreign trade and military-technical cooperation of the Rubin Central Design Bureau for Marine Engineering.
According to Baranov, Russia is ready to provide India with a program that shows the exact repair time for specific vessels. India's Ministry of Defence is expected to offer a response, according to Itar-Tass.
Baranov recalled the accident on the Russian-made submarine INS Sindurakshak off the coast of Mumbai in August of last year. It is unclear whether the submarine can be used again, although Indian Navy sources remain optimistic.
The service life of many of India's Project 877 EKM submarines can be extended up to ten years, according to the Rubin bureau.
Earlier it was reported that the Zvezdochka shipyard will take on the repair and modernization of the Indian Navy's Sindukesari. Then it was reported that the financial terms had not yet been fully resolved, in order for India to avoid the sanctions imposed by the United States and the EU on the United Shipbuilding Corporation, which owns Zvezdochka.
In early August, the Indian side indicated its willingness to buy or lease two Russian Cupid class submarines. This decision was made after the failure of one naval submarine project in India, resulting in the Ministry of Defence's subsequent unease about the state of the country's defences.
In September 2013, India said it intended to conclude a contract with Zvezdochka in 2015 - 2019 on the repair of two Project 877EKM submarines with the extension of their service life.
Since 1997, Zvezdochka has modernised five Indian diesel-electric submarines - Sinduvir, Sinduratna, Sindugosh, Sinduvijay and Sindurakshak. The enterprise also continues the repair and modernisation support of the Sindukirti submarine at its permanent base - Visakhapatnam.
Project 887EKM submarines were designed by the Rubin Central Design Bureau for Marine Engineering (St. Petersburg). They are designed for fighting enemy's submarines and ships and defending naval bases, coastal and sea service lines, reconnaissance and patrolling missions.
Materials from an article first published by Vzglyad were used in this article.
All rights reserved by Rossiyskaya Gazeta.