New anti-selfie mobile app goes upscale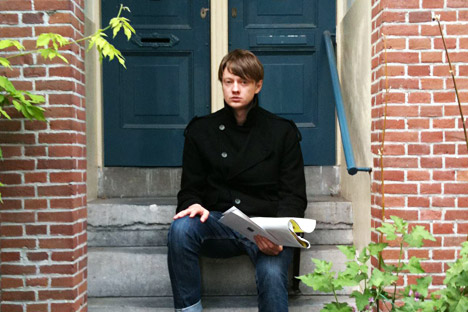 Vladimir Shreyder: "We have created a new genre. It's the purpose of art to create something new." Source: Press Photo
In less than two weeks the new project of famous Glitché app developer Vladimir Shreyder has been used in more than 6000 Instagram pictures.
In August 2014 Russian company Glitché declared war on the "selfie." Famous Russian developer Vladimir Shreyder created a new app, SLMMSK, that has now been used in more than 6000 Instagram pictures and has made it into the top-100 free apps of Russian App Store.
The new application was a response to the selfie culture that has invaded the Internet over the last few years. In November 2013 the Oxford Dictionary announced selfie as their international Word of the Year and global media has kept a close eye on the new trend while social web users publish hundreds of thousands of their photos.
SLMMSK's official web site welcomes visitors with a quote from the Koran, photos of criminals with weapons, women wearing hijabs, and other unexpected pictures. The same controversial aesthetics appear in the actual application.
The app includes a face recognition algorithm and 10 facial filters: from semi-transparent puzzle to extended emoji icons. Developers hope to release a full version of the app this September.
Source: RIR
RIR got in touch with Vladimir Shreyder and asked him a few questions.
What does the name SLMMSK means?
Vladimir Shreyder: It's a cipher message, which is interpreted any way a person would like to – it can be a selfie, a mask or whatever.
Could you disclose a couple of features set to be released in the full version of app?
V.S.: Plans call for 3D and video editing.
What is the origin of the anti-selfie app idea? Is SLMMSK nothing but an "anti" app or do you have a deeper message?
V.S.: New York's Yahoo Tech wrote that with the release of SLMMSK, "we have entered the age of the post-selfie." In other words, we have created a new genre. It's the purpose of art to create something new.
Is the Islamic and dark web stylization mainly there to capture the attention of western audiences? Isn't it dangerous to flirt with such topics?
V.S.: In my opinion the modern world has a global audience that speaks its own modern language, and this project is for those who comprehend this language, no matter what place on the planet they belong to. There's nothing dangerous in such dialogue, though Arabic script looks mysterious to a European spectator, and many of them are glad to decipher these signs.
What is the meaning of the sign in the tenth filter?
V.S.: I propose that users decipher it by themselves. I don't want to deprive them of the pleasure of being a discoverer.
Glitché, your previous mobile app, has become popular among professionals and media. Do you expect the same effect from SLMMSK or is it more of a common project?
V.S.: It's more for professional graphic production than for media. The case is that Glitché is a picture editor with infinite opportunities. SLMMSK is a game with an existing scenario, though many users manage to create absolutely unpredictable things, true art.
Which Glitché successes are you proud of? Which of them were totally unexpected?
V.S.: Recently Glitché was used at the MTV Music Awards. It was also used in a Diesel advertising campaign by the famous Nikola Formiketti. Famous modern fashion photographer Nick Knight made a declaration of love to Glitché. The most unexpected thing was a cooperation proposal from the Adobe company given that we developed an anti-photoshop. But, they loved this idea.
Could you share your favorite anti-selfie?
V.S.: I enjoyed the reaction of a user who couldn't use our app for technical reasons.
All rights reserved by Rossiyskaya Gazeta.