Ukraine conflict not to affect tourism to India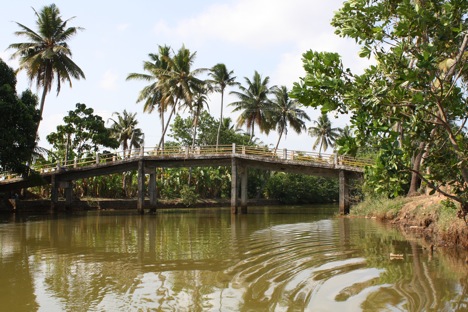 Kerala's backwaters may see a rush of Russian tourists this year. Source: Ajay Kamalakaran
A large number of tourists from Russia and Ukraine are expected to visit the country when the tourist season commences after the monsoons.
The Indian Government is keeping a close watch on the fallout of the current civil war in Ukraine, Union Tourism Minister Shripad Naik was quoted by PTI as saying. He added that the conflict was unlikely to affect tourism from Russia and Ukraine.
"I think effect will not be much. But, right now we can't say anything. We can say something only next month (when the tourist season starts picking up)," the news agency quoted Naik as telling reporters in Goa. He was cited as saying that the impact of the crisis on tourism to India is hard to predict since it was the off season.
163,000 Russian tourists visited Goa in 2013, setting a new record, and marking the first time that the state had more Russian visitors than Britons. Close to 30,000 Ukrainian tourists also visited the western Indian state. Both Russian and Ukrainian citizens will be eligible to apply for e-visas online under a new Indian government scheme that is set to be rolled out in the next few months. Given the political instability in North Africa and Thailand and potential travel restrictions for Russian citizens to Europe, a larger number of tourists from Russia are likely to visit Goa and other parts of India this year. Travel industry sources see the numbers touching 300,000 this year.
Russia and India have identified tourism and encouragement of people-to-people as core areas of cooperation. In 2011, the countries simplified visa formalities for each other's citizens and this had led to increased two-way tourist traffic.
The Russian Information Centre in Goa estimates the tourist inflow from Russia and other CIS countries increased about 9 percent in the last season compared to the previous season and 35 percent when looking at to 2010 figures.
Konstantin Gorin, Tourism Director at Labirint travel company told RIR earlier this year that more people from smaller parts of Russia are visiting places like India and Thailand. "People from Central Russia and Siberia still prefer Thailand, but for tourists from the European part of Russia, Thailand is quite far and thus more expensive then Goa," he said.
Gorin had also said that the most important advantage of Thailand over India is visa-free entry for Russians. Although India has recently included Russia in the list of countries to get visa on arrival, the mechanism is yet to be implemented and tested. He said if it will work as smoothly as it was described and tourists will be able to apply for visa online three days before the flight, it will become a great advantage for Goa and other parts of India.
All rights reserved by Rossiyskaya Gazeta.