India in favour of trade with Russia using rupee, rouble - P.S. Raghavan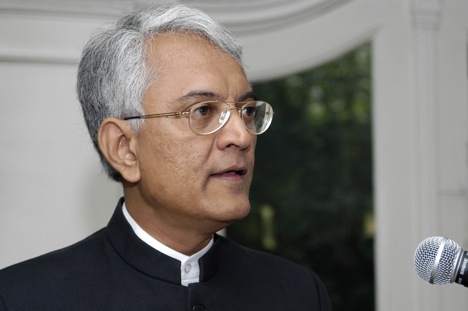 Raghavan said India and Russia have tremendous bilateral opportunities that need to be exploited. Source: Embassy of India in Moscow
The Indian Ambassador in Moscow tells RIA Novosti that he would not like to look at India-Russia trade and economic cooperation "through the prism of external relationships".
India is eager to use national currencies in trade with Russia, Indian Ambassador to Russia, P.S. Raghavan told RIA Novosti in an interview.
"Our two countries have been discussing trade in national currencies as an initiative that can significantly increase the volume of bilateral exchanges of goods. Our Central Banks have recently set up a Joint Working Group to work out modalities," the ambassador said. "We would like to see an early completion of this exercise." He added that there have also been talks between the Export-Import Bank of India (EXIM Bank) and the Vnesheconombank for a guarantees cooperation arrangement, "by which they would facilitate loans in local currencies for Indian and Russian companies seeking to invest in each other's countries. This arrangement could boost mutual investment."
When asked whether India has come up with any measures to promote trade between India and Russia taking into consideration the latest sanctions imposed by the West, the ambassador said, he would not like to look at India-Russia trade and economic cooperation "through the prism of external relationships." Raghavan said India and Russia have tremendous bilateral opportunities that need to be exploited. "India is not party to sanctions on Russia and our business entities are always keen to expand bilateral trade," he said.
The ambassador also told RIA Novosti that India was interested in joining the Shanghai Cooperation Organization, which he said "is an important regional mechanism for cooperation in the areas of economy, regional security, counter-terrorism, energy, transport connectivity and culture." Raghavan said India has already stated that it would be willing to play a larger role in the organization as a full member. "The SCO Heads of States are meeting in September and we are hopeful that the organization will reach a consensus on its expansion process and procedures," Raghavan said.
Speaking on the crisis in Ukraine, Raghavan said India has called for restraint and sincere, sustained diplomatic efforts to resolve all the issues between the parties concerned through constructive dialogue. "The solutions to Ukraine's internal differences have to be found in a manner that meets the aspirations of all sections of Ukraine's population," he added.
The ambassador brushed aside suggestions that growing Indo-U.S. military ties would affect the defence relationship between Russia and India. "Russia is our leading partner in military-technical cooperation and it is the only country with which India has an Inter-Governmental Commission headed by the Defence Ministers," Raghavan said. "Our defence cooperation is based on mutual benefit and is not impacted by other bilateral relationships."
All rights reserved by Rossiyskaya Gazeta.