India Show in Moscow to give exporters a glimpse of Russian market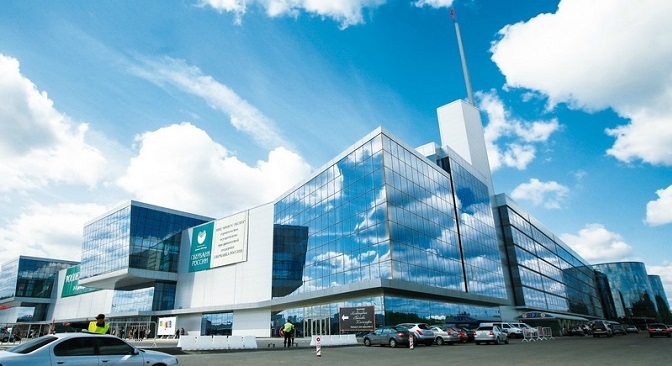 India Show 2014 is being held in Crocus Expo International Exhibition Center on September 24-26. Source: Crocus Expo
Rafeeque Ahmed, President of the Federation of Indian Export Organizations (FIEO) talks to RIR about the upcoming India Show in Moscow and how to increase mutual Indo-Russian trade.
How many companies will participate in the upcoming Indian Show?
FIEO is organising the India Show at Moscow, an initiative of the Department of Commerce, Ministry of Commerce & Industry, Government of India on September 24-26. About 120 companies are participating.
Are you happy with the participants list? I mean are they the best of the best in their sectors?
Most of them. I cannot say that in every field the best will come but in the pharmaceutical, in the leather, in the textiles and machinery tools they are.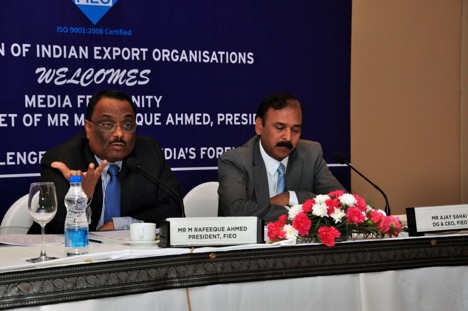 Rafeeque Ahmed (left). Source: Alessandro Belli
Around a year ago, you had some kind of India Show in St. Petersburg. Now you are coming to Moscow. Are there any plans to reach Russian business in other regions?
It is easier to have it in Moscow. Many companies are there. If we want to go to the other regions of Russia, we cannot take all the products, but to look at the products, for which business is possible. So we have to take those people only to go there and then do the business. Moscow is a centralised place where we can have many items. There you can show but in the regions we have to research which product is the best suited there and we take those people along. We cannot have the same show there.
So are you planning to bring somebody to the regions also?
Let us see the result after we go back from Moscow. After that we will review and get through information about all the other items and regions. Then decide which region is necessary, we will go and what items we will promote in that region. We will decide. We will make a decision after this show after getting all the information from all participants.
Earlier Russia has imposed a ban on import of some products from Canada, European Union, USA and other. Do you see this as a possibility for Indian exporters?
Yes, this is an opportunity for us, we have to be there. We have seen the similar opportunity coming to us from Iran. We will see that this is an opportunity for us to be there in Russia and see what Indian goods can be sold. So we will be there to replace the goods (from banned countries). This is what we feel, we are very positive about it.
Is there any plan of actions for the promotion of Indian goods to the Russian market?
We are preparing the list of items which should benefit India out of the ban Russia has imposed. We are analysing that, what is the total import from those countries and where we can replace, what all items we can replace there. We are jointly working with the Commerce Ministry. We are also asking as to have a lot of data which we are submitting. We will come out with that soon, I mean with a plan how India may be able to take advantage of the situation of the sanctions. As I already said, it worked very well with Iran.
So you prepare the list. And then?
What we want to do is to take the specific item delegations and meet those people in Russia. Like if it is machinery tools for example, then we will take a delegation of machinery tool manufacturers there and have a one to one business meeting and we will see.
The trade volume between India and Russia was around $12 billion last year. Our countries say the target is $15 billion to 2015 but this seems not possible to achieve? What is your opinion on this?
We should get to the target in a matter of another one year. Only thing is that there is lot of information we have to tell the Indian exporters themselves because when the Indian exporters are afraid on the payment schedule and everything with the Russian bank in Delhi and we had two meetings with the exporters. We called them, I said this is possible, this is easier than what you think. So to make them more confident of that and then the opportunity. Than our target is double the number in the next five to six years to Russia and we believe it is quite positive too the way Russian economy is there, it is quite possible. We have a good opportunity but our exporters have little information.
Do you have any suggestions how to achieve that?
We are suggesting the government that we should focus on Russia. We should take lot of delegations there. We should also ask Russian delegation to come here. Indian government should also ensure through the credit policy and credit guarantee schemes and other things which is required in the beginning. Once the business is established, they will do the business themselves. Indians are very conservative and they do not change the new markets quickly. That is why our effort is to push them there in the market and there is such opportunity.
(This interview has been edited and condensed for clarity)
A version of this article was originally published on September 10.

All rights reserved by Rossiyskaya Gazeta.