Young scientist sees Dubna becoming hub of Indo-Russian cooperation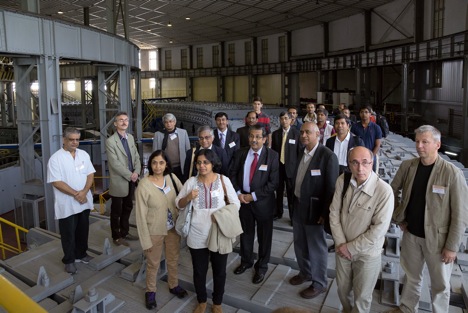 Mridupawan Deka, an Indian researcher at the Laboratory of Theoretical Physics in Dubna, at the India-JINR Forum held in June 2014 (4th from the right). Source: Press Photo
Mridupawan Deka, an Indian scientist, is brimming with bright ideas at the Laboratory of Theoretical Physics at the Joint Institute for Nuclear Research in Dubna.
After the recent India-Joint Institute for Nuclear Research (JINR) Forum held in Dubna this July, they started calling this institute a "bridge between two countries." Mridupawan Deka says he came to the institute to study the "Russian approach" to science. In the near future, he hopes to attract Russian students to work on his research project in the field of lattice quantum chromodynamics.
The India-JINR Forum, held in Dubna in July 2014, brought together representatives from more than 18 countries – the founders of the institute and India's leading scientists, including those from Tata Institute of Fundamental Research (TIFR) and Bhabha Atomic Research Centre (BARC) in Mumbai and Indian Institute of Science (IISc) in Bangalore.
Traditionally, the Indo-Russian collaboration in the nuclear field has been associated with the construction of nuclear power plants. The Kudankulam Nuclear Power Plant (KNPP) built by the Nuclear Power Corporation of India with the assistance of the Russian State Nuclear Energy Corporation (Rosatom) is a shining example of this cooperation. However, bilateral nuclear cooperation goes beyond building nuclear power plants and extends into the field of fundamental research projects for better understanding on how to use to nuclear energy.
Dubna Science City is located 125 km from Moscow, on the border with the Tver Region. The rare electric trains and buses that travel in that direction are usually only half-full during weekdays. When somebody asks: "How do I get to Dubna by 7 a.m.?," they answer: "And why do you need to go there? Planning a terrorist attack or what?"
This is not surprising – after all, Dubna is the nucleus for research in the field of nuclear physics, the "city of one hundred and fifth element" (Dubnium). The few people that come here do so out of pure curiosity. Dubna gives the impression of a European scientific centre, with classical buildings surrounded by greenery. On the streets, one can meet scientists from all over the world. Over 18 countries participate in the activities of the institute, and joint work is carried out with hundreds of international research institutes. Deka landed in Dubna a little more than a year ago, after already gaining significant research experience in Germany, the US and other countries. Asked why he chose Dubna for his research, Deka replies: "It was always on the back of my mind that someday I would come to Russia. Our countries have such a long history of cooperation in the field of physics."
Deka considered many countries, but finally zeroed in on Russia as he is convinced that it is difficult to find elsewhere people that are engaged in similar research and at the same time have a high level of professionalism. He says although Russian universities do not conduct high-voltage advertising campaigns like the American ones, Russian scientific development has an unrivalled stature and is recognised worldwide.
Deka, who is working on fundamental research, explained that high professionalism of Russian scientists as well as their determination to foresee all the details became decisive factors that inspired him to stay in Russia.
"If we start discussing something, it is not just small talk. The conversation ends only when all understand everything from beginning to end. It does not matter how long the discussion lasts. This is something rare in other countries. A similar approach is used in the United States, where they also seek to achieve clarity, but not to such an extent," Deka believes.
"Secondly, here people are highly motivated and they are very sincere. Russian scientists go beyond the limits, and I have not seen this in any other country in the world," he adds.
Deka is studying the internal structure of the proton, in order to understand the fundamental forces acting within it. He says that for now, it is hard to talk about the practical application of this research.
"We conduct certain studies in physics to understand how to use such forces as nuclear energy. That is why, in particular, I like working in Dubna – the Russians are ready to undertake long-term projects, and they have a great history of fundamental research," Deka says.
There are not that many people in that field, because in order to engage in such calculations, it is necessary to have computer skills. This area requires the collaboration of many people – physicists and mathematicians. Compared with other fields, where two people can work on one project, a team of at least six people is needed, Deka says.
Deka is upbeat about his future plans. "I hope that at this institute, I can help create such a group. I plan to involve Russian students in my work, and now we are discussing this idea with colleagues. In the future, Indian students might become involved as well. I plan to spend another year or two in Dubna in order to create such a group," he says. The young Indian scientist sees bright prospects for further cooperation between scientists from Dubna and India.
A state delegation comprising of Indian experts will come to Dubna in October, and they will visit many institutions in Russia. Deka hopes that they will be able even to reach some agreements.
"In Russia, there is vast knowledge that is not used – perhaps this is due to a shortage of human resources, while in India, there is a huge population that is hungry for knowledge. Here, I see many opportunities for collaboration," says Deka.
All rights reserved by Rossiyskaya Gazeta.