Russia's Galactica keen to partner with Amul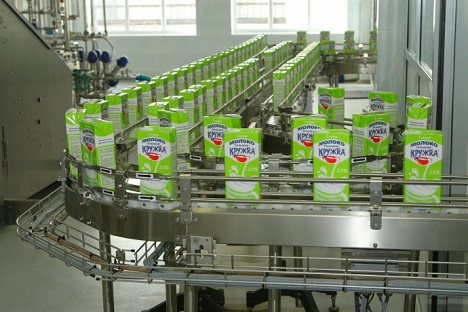 Galactica Group, which has about 3 percent share in the Russian dairy market and ranks among five largest dairy manufacturers in the country, is a part of FoodLine Holding, one of Russia's largest distributors of milk products and components. Source: Galactica Group
The head of Galactica Group sees good potential for Amul products in Russia.
A tie-up between Russian and Indian dairy product manufacturers is unprecedented in the history of bilateral trade. While many analysts argue that the tit for tat trade war between Moscow and the West is the reason that Amul has found an opening in Russia, Anatoly Sirotinin, Chief Executive, Galactica Group, says the new partnership between his company and the Indian dairy giant was not the result of sanctions.
"The decision to start talks with Amul was not related to the embargo situation. By the time the import ban was announced we had already had our first communications," Sirotinin says.
Anatoly Sirotinin. Source: Itar-Tass
Galactica Group, which has about 3 percent share in the Russian dairy market and ranks among five largest dairy manufacturers in the country, is a part of FoodLine Holding, one of Russia's largest distributors of milk products and components.
FoodLine Holding is likely to become the distributor of Amul products, including Amul milk powder and some cheese items, in the Russian market. The powdered milk will be sold to the dairy products manufacturers across Russia.
It was our own initiative to get in touch with Amul," Sirotinin adds. "I visited their factory in Anand in Gujarat and invited Mr R. S. Sodhi to visit Galactica factory in Gatchina to exchange experience in dairy manufacturing. He visited us on September 4."
Sirotinin says the agreement between companies will be signed shortly. However, it's too early to talk about the volumes of imports, he adds, as Galactica is yet to receive the samples of milk powder from India and conduct the tests.
"After we are done with tests, we need to bring a trial consignment and offer our consumers, the dairy products manufacturers, to try the new product. It's not yet clear how they will react. The taste of Indian powdered milk is different from those we were bringing from Europe. It may not suit some of the manufacturers," Sirotinin says.
Earlier powder for dairy manufacturing was imported from Baltic countries, Germany and New Zealand. The latter doesn't fall under current ban.
Amul factory is yet to be certified by Rosselkhoznadzor (Federal Service for Veterinary and Phytosanitary Surveillance). It won't take more than a month, Sirotinin hopes.
Starting points
Amul is exporting a wide range of products to over 40 countries, including the US, Caribbean countries, African countries and the Gulf Region. Although the Russian dairy industry is quite different from the one in India, some ready made products, for example export-quality semi-hard cheese like Cheddar, Gouda and Mozarella that are quire in demand in Russia, especially after the imported cheese was banned, could be a good option to start with.
Milk deficit
Amul is the first Indian dairy manufacturer to enter the Russian market. However since Russia traditionally faces a fresh milk deficit, the industry depends on imports.
"In last few years there was a continuous decrease in fresh milk production which led to the shortage of raw milk for the processing enterprises," a spokesperson with Souzmoloko (Union of Milk Producers) told RIR. He added that traditionally the main raw milk supplier in Russia was Belarus, but India could fill the remaining niche.
The Souzmoloko spokseperson says cheese was the major item of import from several countries affected by ban. The market may face a deficit in several categories which again promises some opportunities for new players. "Russian producers have technologies to product cheese but without additional support from the government they won't be ready to increase the outputs," he adds.
According to the Russian Federal Customs Service in the first quarter of 2014 the imports of milk and product made from Western countries increased 10.4 percent from the same period in 2013 to 1,423 million tonnes. The imports stood at nearly $639 million (20 percent higher than in the same period of 2013 and 42 percent higher than in 2012). The deficit of raw milk available to Russian dairy manufacturers as well as cheaper prices of imported ready milk products contributed to the growth of imports.
All rights reserved by Rossiyskaya Gazeta.