Dairy, meat imports from India likely by December- Rosselkhoznadzor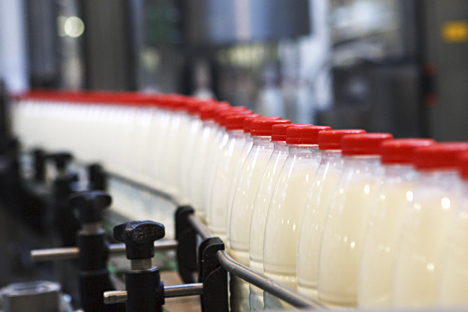 Indian production facilities are ready to supply meat and dairy products, including milk, butter and cheese, to Russia. Source: Alexei Danichev / RIA Novosti
An agreement was reached during talks between the heads of Rosselkhoznadzor and India's Agricultural and Processed Food Products Export Development Authority.
Russia may authorize the deliveries of dairy and meat products from India by December, the press secretary of agricultural watchdog Rosselkhoznadzor told RIA Novosti on Wednesday.
"We have reached an agreement according to which within a month an inspection will be carried out at Indian production facilities that are ready to supply meat and dairy products, including milk, butter and cheese, to Russia. Another month will be needed for the approval of certificates. It means that deliveries may start in two months, by December," Yulia Trofimova said.
Rosselkhoznadzor also considers adding more Indian producers to the list of fish and seafood suppliers.
"We will consider a number of producers and, once we are sure they are reliable, we will start cooperation," she added. "It is the quality of goods that is most important to us …."
The agreement was reached during talks between head of Rosselkhoznadzor Sergey Dankvert and India's Agricultural and Processed Food Products Export Development Authority chairman Santosh Kumar Sarangi.
Currently, eggs, fish and seafood are among foodstuffs delivered from India to Russia. According to Sarangi, India exports more than $5 billion worth of seafood globally. It is also one of the world's largest meat suppliers, delivering meat to 65 countries, with $4.8 billion worth of meat supplied in 2013.
Last month, the Russian Government imposed a one-year ban on imports of fruit, vegetables, meat, fish, milk and dairy imports from the U.S. the European Union, Australia, Canada and other countries that have imposed sanctions on Russia. The European Union alone is expected to lose $16 billion on account of the ban.
The Russian government is looking to encourage domestic food production and stimulate import substitution; however in the short run, the only viable option is to import food from other markets, according to analysts.
Before the ban, Russia imported 50 percent of its dry milk and cheese from abroad, mainly from the former Soviet Baltic republics and Finland. India exported $540 million worth of dairy products in the last financial year according to APEDA figures. Last week, the head of Russian dairy giant Galactica Group told RIR that he sees good potential for Amul products in Russia.
First published by RIA Novosti.
All rights reserved by Rossiyskaya Gazeta.