Skolkovo Foundation offers India innovation partnership - Viktor Vekselberg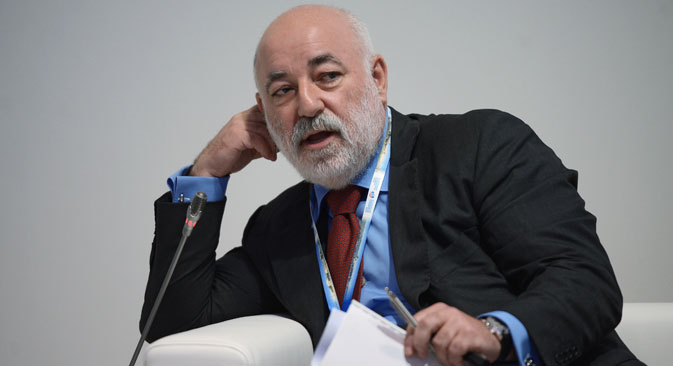 Viktor Vekselberg, The Skolkovo Foundation's president. Source: Vladimir Astapkovich / RIA Novosti
The Skolkovo Foundation's president talks to RIR about the prospects for Russian-Indian innovation cooperation, and of plans to bring scholars from India into the organization.
Which areas of cooperation do you consider projects to be a priority for Russia and India at Skolkovo?
There is a wide field of activities and space for joint projects where Russia and India can cooperate in the realm of innovation. The priority today is high technology, in which our countries occupy leading positions in the world.
Energy partnership is the second important area of focus. In this case we are talking about questions of energy efficiency and power engineering; there is great potential for the development of bilateral cooperation in both of these areas.
Cooperation is also forming in the field of space exploration. Dauria Aerospace, a Skolkovo partner and multinational aerospace company providing global satellite-based remote sensing information and telecommunication services, earlier announced that it has been tapped by the India-based satellite communication services provider Aniara to design and build two new generation small Ku-band geostationary satellites. The state-of-the-art geostationary satellites are specifically being developed to serve small and midsized markets in Asia, Middle East and Africa (AMEA), which are currently not being addressed or are otherwise underserved by larger and more expensive satellite networks. In India, Aniara and Dauria signed a marketing agreement for ANIARA to globally market ATOM these satellites.
Cooperation in the area of ecology stands apart. This is an area that is especially important for Russia and India, and it will remain so in the future. We are talking about projects for water purification and the application of advanced technologies in agriculture.
How do you envision the future results of your activities?
The chief result that we are aiming for is to see Indian companies among our members. We would also like to promote Russian technologies in the Indian market.
Another result could be the establishment of cooperation in the educational sphere. This is basically related to our university Skoltech. We would like to have Indian scholars here.
Success will be easy to measure – if students, professors, and research from India come here, then we will have achieved success.
Do you think that Skolkovo will be able to occupy a prime position in Russian-Indian cooperation when it comes to innovation?
I would put it differently. Skolkovo must become and is already becoming an element in Russian-Indian cooperation in the sphere of innovation, communication channels, and the exchange of experience between our two countries.
All rights reserved by Rossiyskaya Gazeta.