India interested in MiG simulator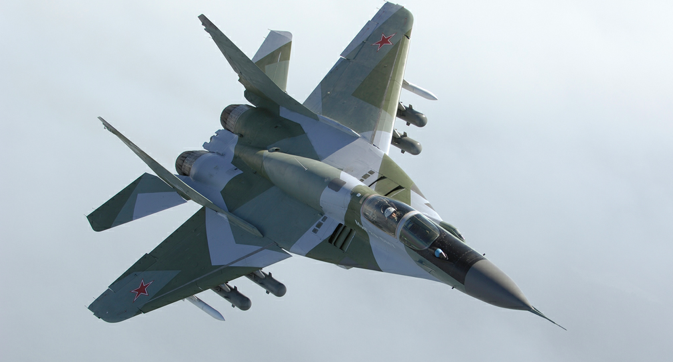 MiG-29. Source: MiG Corporation
MiG Chief Executive Sergey Korotkov told Tass that the simulator would help train pilots operating aircraft on the INS Vikramaditya.
India is one the countries that has shown an active interest in buying Russian Aircraft Corporation MiG's fighter jet simulator.
"India has taken an interest in the device, as it has proved to be highly effective during the training of navy pilots on the aircraft carrier INS Vikramaditya," MiG Chief Executive Sergey Korotkov told Tass. "We definitely intend to sell such simulators. As part of the contractual obligations with India we use this simulator for training two groups of pilots. The Indians loved it. I think as soon as they sign the contract for another batch of fighters, hopefully, they will start buying," he added.
The simulator, jointly developed with the Moscow Aviation Institute, is a close replica of a real fighter cockpit. The model enables a large screen reproduction of the entire flight: takeoff, landing, refuelling, aerobatics and manoeuvres. The trainee uses 3D glasses at the moment, but in the future they will be replaced by a pilot helmet with a special visor that wouldn't distort the image and wouldn't limit the head movements.
"We have developed many features and now are working on the interface of the pilot and of all the equipment," Korotkov said. The simulator is flexible enough to be used for various types of aircraft training. It can be used for beginners' training as well as for upgrading skills of experienced pilots. Most importantly, it is possible to practice the aircraft carrier landing and refuelling in the air, the features that the old 2D image simulators couldn't offer," he added.
India will receive six decked MiG-29K/KUB fighters by the end of the year, for use on the INS Vikramaditya, which has the capacity to carry 30 of these fighters. Indian naval pilots continued to be trained by MiG to operate these aircrafts.
A service centre for MiG-29 aircraft will be operational in India from next year. Besides refurbishing the MiG-29UPG and MiG-29K/KUB aircrafts, the centre will provide advisory services for Indian technical staff. The Russian company also wants to build a consignment warehouse for aircraft spare parts in India.
The Russian Navy's MiG-29K/KUBs are housed on the Admiral Kuznetsov aircraft carrier, which is a part of the 279th regiment.
First published in Russia by VPK.
All rights reserved by Rossiyskaya Gazeta.