India-Russia working group discusses JVs in aviation, fertilisers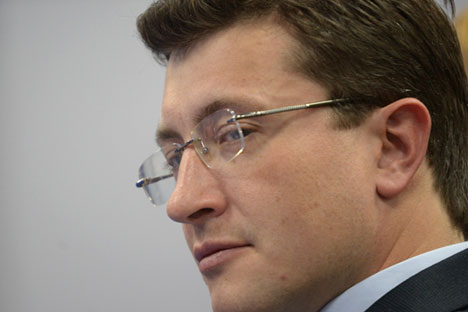 Gleb Nikitin, First Deputy Minister of Industry and Trade. Source: Grigory Sisoev / RIA Novosti
The group led by Russia's first deputy minister of industry and trade and senior officials from India's commerce ministry also focussed on joint ventures in the automobile and pharmaceutical industries.
An Indo-Russian working group preparing for Russian President Vladimir Putin's December visit to India discussed cooperation in several areas including setting up of joint ventures in civil aviation, pharmaceuticals, automobiles and fertilisers, The Hindu BusinessLine reported on its website. The group also reviewed progress in the priority investment projects that were identified in earlier meetings, the paper said, citing an Indian Commerce Ministry official.
According to the report, the Russian side was led by First Deputy Minister of Industry and Trade Gleb Nikitin and comprised of representatives from Russian companies with business interests in India such as Kamaz Motorz Ltd, GAZ Group, REP and Uralmashzavod. The delegation from Russia also included the Deputy Director of Aviation Department Rostovtseva Lyudmila and Heads of the Departments of Metallurgy and Heavy Machinery and Foreign Economic Relations, according to the report.
Senior Commerce Ministry officials led the Indian side, which also had representatives from the Ministries of Civil Aviation, Fertilisers and Heavy Industry, the paper added.
India and Russia have set up a trade target of $20 billion within the next few years. Bilateral trade last year stood at just under $10 billion. One way to increase trade is the signing of a comprehensive economic partnership agreement (CEPA) between India and the Customs Union of Russia, Belarus and Kazakhstan, which will become the Eurasian Union in 2015.
The head of the Eurasian Department of the Indian Ministry of External Affairs Ajay Bisariya said that his country intends to discuss with Russia the possibility of signing an agreement, "which would bring India closer to this unifying space."
At the 14th annual Russian-Indian summit held in Moscow in October 2013, it was decided to set up a Russian-Indian working group that examined the possibility of an agreement on economic cooperation between India and the Customs Union.
Vietnam is likely to be the first country to sign a free trade agreement with the Eurasian Union. India is seeking a CEPA since it wants an agreement to include not just the free movement of goods, but also of services and professionals.
Bilateral trade between Russia and India is also likely to increase in the wake of the tit for tat sanctions war between Moscow and the West.
All rights reserved by Rossiyskaya Gazeta.