Russia offers India 3 additional Talwar class frigates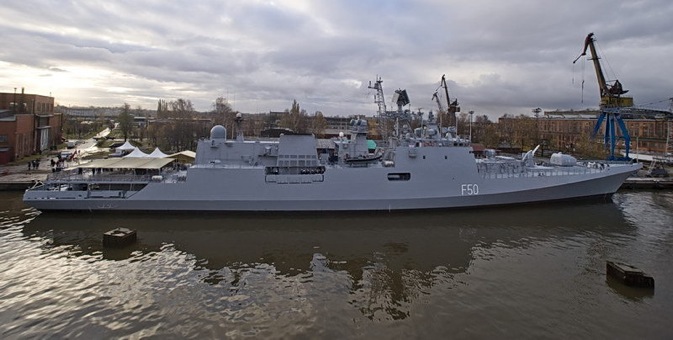 Russia supplied India with two sets of three Project 11356 frigates, with the last one being the INS Trikand. Source: Rossiyskaya Gazeta
India is also looking to upgrade the first set of three Project 11356 frigates that were purchased in the early 2000s.
Russia offered India three additional Project 11356 or Talwar class frigates, after New Delhi made a formal request, Vladimir Spiridopulo, the general director working on this project at the Northern Design Bureau, said. Negotiations have been taking place since this spring, TASS said.
Russia supplied India with two sets of three Project 11356 frigates, with the last one being the INS Trikand.
"Negotiations on the third set of three frigates have been taking place with the Indian side since this spring. India sent us a request and we presented a proposal in response," Spiridopulo said. "I cannot talk about all the details of the third set of three frigates," he added.
Spiridopulo also would not specify which shipyard might be given the order – the first three ships were built in the Baltic Shipyards of St. Petersburg, and the second set in Kaliningrad's Yantar Shipyards.
The general director of the bureau reported that negotiations are underway for the modernization of the first three Indian Project 11356 frigates, handed over in the early 2000s. "But the contract for the modernization has not been signed yet," said Spiridopulo.
Speaking about the other areas of military-technical cooperation with India, Spiridopulo said that the Northern Design Bureau is helping to install a combat information and control system, of its own design, on Indian Project 17 destroyers (Kolkata-class). According to him, this system is now being installed on the third ship of this project.
India would be looking for the next frigates to be equipped with BrahMos missiles. The Indian Navy's existing Project 11356 frigates are not BrahMos-equipped because they were designed before the BrahMos naval variant could be developed.
These ships, a modification of Krivak III class Russian frigates, are designed to carry and operate one heavy duty early warning helicopter which can provide over-the-horizon targeting. The frigates can also have the indigenously built Dhruv light combat helicopter.
The frigate's efficacy in anti-submarine warfare can be gauged by the fact that its RPK-8 rocket system has a firing range from 600 to 4300 metres and the depth of engagement of up to 1000 metres.
Its combat data system independently generates combat missions based on situation analysis, determines optimal number of missile firings, displays information on the state of ship-borne weaponry and transmits data to protection systems.
Information from an article published by VPK was used in this report.
All rights reserved by Rossiyskaya Gazeta.