Technical checks on Su-30s no reason for concern - S.P. Tyagi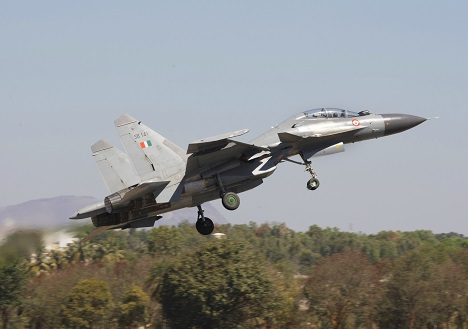 The Su-30 MKI, NATO reporting name Flanker-H, is the IAF's elite fighter-bomber. Source: AP
The former chief of the Indian Air Force said there is no doubt about the safety and reliability of the Su-30 MKI fighter.
Grounding the Indian Air Force's fleet of Sukhoi-30 aircraft for technical checks will not affect further contracts for the deliveries of these Russia-developed planes to India, former Indian Air Chief Marshal Shashindra Pal Tyagi said in an interview with RIA Novosti Wednesday.
"There is no reason of concern. There is no doubt about its safety and reliability. Su-30 MKI fighter aircraft are the pride of the Indian Air Force," Tyagi said, adding that the technical checks will not have any impact on further Su-30 aircraft deals.
"This method has been adopted around the world and there is nothing new in it. The main objective of the technical checks is to ensure that there will not be further damage to the fleet of aircraft and also to save the loss of life," the former air chief noted.
Yesterday, the Indian Air Force (IAF) announced that it grounded its entire fleet of Sukhoi-30 fighter jets to undergo safety checks. The fleet of about 200 Su-30 jets currently grounded represents almost a third of the country's fighter fleet. The IAF is due to purchase another 72 Su-30 jets from Russia.
The announcement follows a last week accident when an IAF Sukhoi-30 MKI crashed into a field in the Pune district in the western Indian state of Maharashtra on October 14. There were no casualties as both the pilot and the co-pilot had ejected to safety.
"The fleet has been grounded and is undergoing technical checks following the latest accident in Pune," the news agency cited IAF spokesperson Wing Commander Simranpal Singh Birdi as saying. "It would be back in air only after a thorough check." Birdi did not specify what the specific technical aspects were.
Sources close to the situation told RIR the public announcement close to the Indian festival of Diwali may have been a scare tactic employed by those with vested interests in the Rafale deal. "Create a scare and then generate media pressure so that the government will buy the Rafales for terms that are more suitable for the French than they are for India… these are old tricks," a retired IAF officer who worked closely with the Su-30MKI programme told RIR.
The Su-30 MKI, NATO reporting name Flanker-H, is the IAF's elite fighter-bomber. It was developed by Russia's Sukhoi Aviation Corporation and built under license by India's Hindustan Aeronautics.
First published by RIA Novosti.
RIR's Alexander Korablinov contributed to this report.

All rights reserved by Rossiyskaya Gazeta.