Rostov eyes greater cooperation with India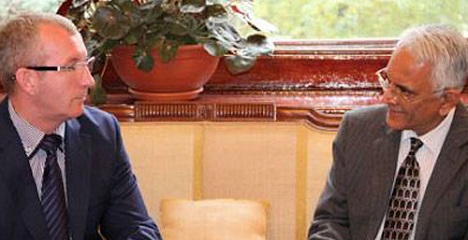 Minister of Economy of Rostov Region Alexander Levchenko (l) and Ambassador of India P.S.Raghavan. Source: Indian Embassy in Moscow
The Russian region is looking for Indian investment and participation in its food processing, agricultural and consumer goods, automobile and pharmaceutical industries.
Russia's Rostov Region is looking at greater cooperation with India and is eyeing investments from Indian companies in several sectors. This month, government and business representatives of the region made a presentation at the Indian Embassy in Moscow on business and investment opportunities in the region.
Minister of Economy of Rostov Region Alexander Levchenko led a high-level delegation of the regional administration, companies and universities of Rostov region to highlight the opportunities for Indian business in Rostov. The presentations covered power, machine building, engineering, food and beverages, industrial park, pharmaceuticals and education, according to the Indian Embassy. Presentations were also made by Indian companies, which highlighted their activities and business interests in Russia and their interest in expanding their activities in Rostov.
Ambassador of India P.S.Raghavan highlighted the strong India-Russia effort to significantly step up bilateral economic cooperation and said the dynamic economic growth of Rostov in recent years generated new opportunities for Indian business to engage with the region. Pharmaceuticals, dairy, agricultural products and automobile are sectors of particular promise.
Levchenko expressed the interest of the region in enhancing engagement with Indian companies and emphasized the prospects of cooperation in food processing, agricultural and consumer goods and the investment potential in automobile and pharmaceuticals under Russia's Pharma 2020 strategy.
The Indian Embassy said it would "continue to facilitate such interaction of different regions of Russia with Indian business representatives in Russia."
Large potential for pharmaceutical industry
The pharmaceutical industry offers the greatest promise for Indian companies. The two countries are working on an agreement to speed up the registration of Indian drugs in Russia. Such a deal, which may be signed when Vladimir Putin visits India in December, would fast-track Indian drugs to market in Russia and also boost Indian pharmaceutical companies' investment in Russian infrastructure. Indian companies are also planning to set up testing facilities and infrastructure in Russia to get bigger market share in that country.
The Russian pharmaceuticals market, currently estimated at $18 billion, is expected to grow to $60 billion by 2020. At the moment, India has a minor share of about 3 percent of the $12 billion drugs that Russia imports. Easier access for Indian generic drugs could easily boost that to 10 percent within the next three years, according to industry experts.
All rights reserved by Rossiyskaya Gazeta.