Crimean wines may be exported to India, China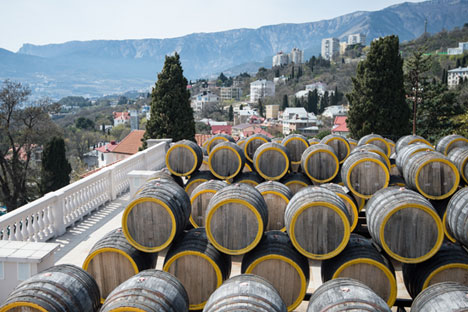 Rows of oak barrels for fermenting Madeira wine at the Massandra wine-making factory in Crimea. Source: Mikhail Mokrushin / RIA Novosti
Wine from the peninsula may find its way to shelves in Asia, according to Sergey Aksyonov, head of the Republic of Crimea.
Crimea's ambitions are not limited to providing wine to Russian consumers. It also expects to enter the markets of China and India, the head of Crimea Sergey Aksyonov told the reporters.
"Today there is demand for Crimean wine everywhere. During my visit to Moscow, I was approached by entrepreneurs who deliver products outside of Russian Federation - in China, in India, where there is direct interest, including the supplies of Crimean wines," Aksyonov said.
According to him, Crimea has a great potential in terms of growing grapes. Vineyards occupy more than 30 thousand hectares of the peninsula, while in the rest of Russia - about 60 thousand hectares.
"We believe that Crimea should become a priority region where the wine industry will attain a certain momentum, and enable Crimea to supply wine to all of Russian Federation," Aksyonov said.
He added that when Crimea was a part of Ukraine, many of its vineyards were rendered unusable. "Unfortunately, the state of Ukraine almost never allocated funds to support this industry," Aksyonov said.
India and China are among the fastest growing wine markets in the world. The former produces wine in the states of Maharashtra and Karnataka, and as a result, the country has high duties on wine imports. The duties have been a bone of contention between India and the European Union.
Analysts believe that Crimean wines would have a distinct price advantage in India when competing with wines from Spain, France and Chile.
Crimean wine: A chequered history
In 1820, during the reign of Catherine II, Count Mikhail Vorontsov planted the first wine gardens in Crimea and established a large winery near Yalta. A viticulture research institute called Magarach was founded eight years later.
The Russian sparkling wine, called champagne was founded by Prince Lev Golitsyn after the Crimean War.
In the 19th century, Crimean Wine was considered the best in all of the Russian Empire.
Under Tsar Nicholas II, the predecessor of Massandra, today's state winery, was founded. The most well known wines from Crimea are Massandra and Novy Svet. The companies have been operating produce sweet and fortified wines in the French style.
Information from an article published by Sputnik was used in this article.
All rights reserved by Rossiyskaya Gazeta.