India's Su-30s to be back in use this week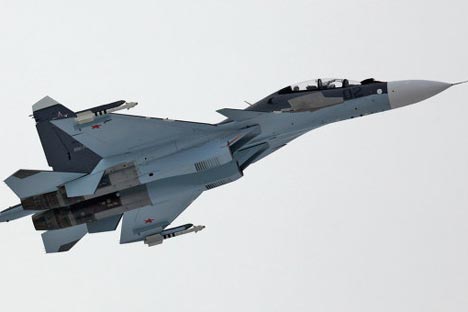 India has a large fleet of Su-30MKIs. Source: Irkut corporation
Indian Air Force Chief Arup Raha told PTI that the inquiry into last month's crash near Pune is almost complete
The Indian Air Force's Sukhoi Su-30MKI fleet, which was grounded last month over a crash near Pune, will be back in use this week, Air Chief Arup Raha was cited by PTI as saying. The fleet would be back in use "within a week's time" Raha told the news agency on Friday, November 14.
"This (Pune crash on October 14) was an accident which appeared to be automatic firing of the seats. Court of Inquiry (CoI) is about to be complete and the findings are being finalised. We will have the results very soon and we are going to start flying the aircraft very soon," Raha was cited by the news agency as saying.
Raha was cited as saying that the "preliminary findings" did not indicate that they have been able to find the reason for the crash and the air force "will be able to tackle the problem without much issue." He added, "I am very hopeful that the CoI will end soon and we will be able to fly this fleet all over again and get back to normal."
A team of 10 Russian experts along with IAF personnel and officials from Hindustan Aeronautics Limited (HAL) conducted a complete evaluation of the fleet of twin-engine fighters.
The fleet of about 200 Su-30 jets currently grounded represents almost a third of the country's fighter fleet. The IAF is due to purchase another 72 Su-30 jets from Russia.
The Su-30 MKI, NATO reporting name Flanker-H, is the IAF's elite fighter-bomber. It was developed by Sukhoi Aviation Corporation and built under license by HAL.
Former Indian Air Chief Marshal Shashindra Pal Tyagi had said last month that grounding the fleet of Sukhoi-30 aircraft for technical checks will not affect further contracts for the deliveries of these Russia-developed planes to India.
"There is no reason of concern. There is no doubt about its safety and reliability. SU-30 MKI fighter aircraft are the pride of the Indian Air Force," Tyagi had said. "This method has been adopted around the world and there is nothing new in it. The main objective of the technical checks is to ensure that there will not be further damage to the fleet of aircraft and also to save the loss of life."
The Indian Air Force has lost more than 35 planes and helicopters to crashes in the last three years.
The Commander in Chief of the Russian Air Force Colonel General Viktor Bondarev is in Delhi today to hold talks with Raha.
All rights reserved by Rossiyskaya Gazeta.