Russian Air Chief on three-day visit to India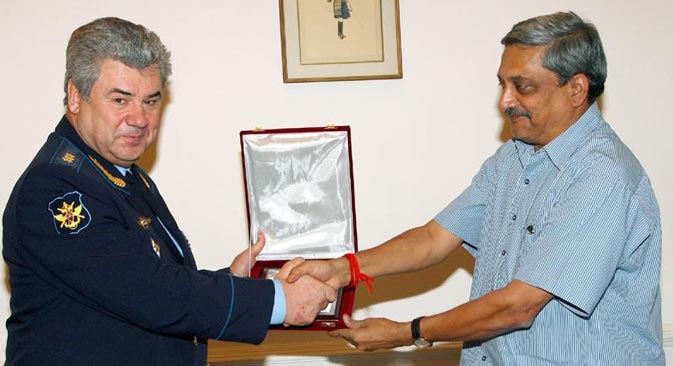 Russian Air Chief Colonel General Viktor Bondarev with Indian Defence Minister Manohar Parrikar. Source. Press Information Bureau of India
Colonel General Viktor Bondarev will be visiting the National Defence Academy and the Air Force Academy in Hyderabad
As the Russian and Indian air forces get set for the Indian phase of Avia Indra-2014, Colonel General Viktor Nikolaevich Bondarev, Commander-in-Chief of Russia's Air Force is in India on a three-day visit.
Bondarev, who inspected an Indian Air Force (IAF) guard of honour on arrival in Delhi yesterday, met senior defence and military officials in the Indian capital.
He called on India's new Defence Minister Manohar Parrikar, who until recently was the chief minister of Goa. Sources close to the situation told RIR that the talks were cordial and did not delve deep into contentious issues concerning India-Russia defence ties. "Indian and Russian concerns in the defence partnership were mutually conveyed when Dmitry Rogozin was in Delhi," a source close to the Indian Defence Ministry said on the condition of anonymity. "It was more an attempt to get acquainted with the new defence minister," the source said.
The Russian air chief held a meeting with Indian Air Chief Marshal Arup Raha. On the meeting's agenda was the grounding of India's Sukhoi Su-30MKI aircrafts last month. Raha had earlier said that the planes would be set to fly again this week. During the Avia Indra-2014 exercise at the Halwara station in Punjab, the air forces will be using the Sukhois.
Bondarev will be visiting the National Defence Academy followed by a visit to the Su-30 Squadron, the Indian Defence Ministry said in a statement. He will also visit the Air Force Academy at Hyderabad "to get a firsthand account of the training being carried out on the PC-7 Simulator and the Virtual Tower Simulator," according to the statement. "He would also be interacting with Instructors and trainees at AFA."
The Indian Defence Ministry added that Bondarev's visit aims to "enhance air force to air force ties between both the countries."
Some of the major procurement contracts signed with Russia for the Indian Air Force in the last decade have been IJT Engines, MiG-29 Upgrades, Mi-17 V5 and Medium Lift Helicopters, the Indian Defence Ministry said in the press note. Besides these, contracts for Joint Production of Fifth Generation Fighter Aircraft (FGFA) and Multi Role Transport Aircraft (MTA) have been signed, it added.
There have been several reports in the Indian media that the IAF was unhappy with the progress on the FGFA project, but neither the Indian Defence Ministry nor officials from the air force are willing to confirm such reports.
Last week, Mikhail Pogosyan, President of Russia's United Aircraft Corporation said that the FGFA and MTA are priority projects for Russia. "There are several issues related to the organization of the work, the terms, the cost and technical details. This requires certain time and the corresponding coordination procedure at the level of governments of both countries," Pogosyan had said.
All rights reserved by Rossiyskaya Gazeta.