A 'smart item' in India-Russia cooperation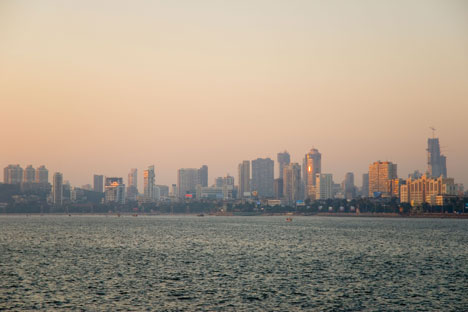 As Mumbai gets over-crowded, India is looking to build many smart cities. Source: Alamy Legion Media
Companies like Sistema and its subsidiary Sitronics Cams have invested in smart cities around Russia. Their expertise would be welcome in India
Among various items of cooperation, the 20th IRIGC-TEC meeting held this month in New Delhi focussed on smart cities. This has a two-fold significance. First, the traditionally defence-dominated relations are making room for innovative ways of cooperation. Secondly, there is added synergy to Prime Minister Narendra Modi's ambitious plan to develop 100 smart cities in India. The potential of joint cooperation in this area is enormous. The smart city project is an area that requires massive investment, and the Indian government has already allocated about $1.2 billion.
Cities, like human life, are not static. And particularly in India, where the population is growing in a rapid pace, urban stagnation is more acute. Thousands of people migrate from villages to cities every year in search of better opportunities. A study suggests that every year 1200 families migrate to Mumbai. At the current rate of bulge of the cities, India would require 500 smart cities in the near future.
A smart city promises to address problems in a smart way. It is based on the idea of utilization of existing resources in an innovative way. It relies on methods and practices empowered by information and communication technology, renewable energy, healthy work culture and avoidance of duplication and effective control of activities. A smart city will consist of five main domains: smart energy including the use of smart meters and renewable energy, smart water including distribution of potable drinking water, avoidance of leakage and proper management of drainage system, smart transportation including sharing of real time traffic information, smart buildings and smart government that includes e-governance, an affordable health policy, education and effective law and order system. The smart cities will also reduce burden on existing cities.
Unlike in India, the idea of a smart city is not new in Russia. Companies like Sistema and its subsidiary Sitronics Cams have invested in the smart cities around the country. While the smart city project in Moscow cost around $6.5 billion, in other cities like Ufa, Kazan and Rostov the cost is around $650 million. The improved communication structure empowered by information technology has helped the law and enforcement authorities in these cities to check effectively traffic violations and accidents. The security cameras installed at key traffic intersections help monitor traffic movements, and also help in maintaining law and order. In case of an accident, the monitoring system alerts an ambulance to take the victim to the nearest hospital. The system has also helped in better transportation in terms of providing real time information on road traffic and the availability of vehicles.
India can learn from Russian expertise. Russia is interested to invest in the Delhi-Mumbai transport corridor. Though there is no exact estimate of the cost of smart cities in India, certainly it would cost billions of dollars. India and Russia may need to raise funds from sources from third parties to develop the cities. The newly established BRICS bank could be interested in investing in the project.
Sistema Shyam Teleservices, in which Sistema has a stake, can also be lured to provide IT services to these cities..
In the list of diversification of India-Russia cooperation, a smart city is certainly a key attraction. The project will witness the evolution of a digital India, transforming the lives of people. In this competitive project, Russia can emerge as a major partner of India. The bilateral cooperation will gain further substance during Russian President Vladimir Putin's visit to New Delhi next month.
The visit may witness concrete agreements on smart cities project. Already there are sister cities in India and Russia, and it may not be a surprise that the smart cities of India and Russia will be connected in near future, not only through the domain of web network, but also through the transport network spanning through vast landscape of Eurasia. In both the cases, India and Russia will be the gainers.
All rights reserved by Rossiyskaya Gazeta.