Indian evisa facility for Russians to be launched next week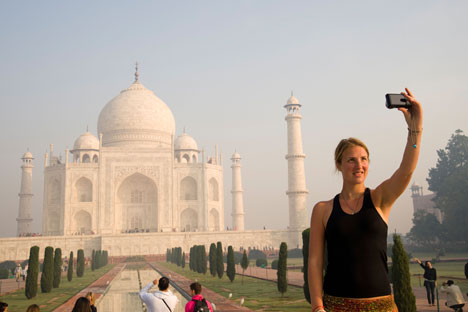 Russian tourist arrivals to India are set to increase. Source: Alamy Legion Media
Russia is on the list of 28 countries whose citizens can apply for an Indian tourist visa online. The service will be rolled out on November 27
Russian citizens visiting India for tourism will no longer have to go to an Indian diplomatic mission to get a visa. The evisa initiative promoted by the Indian Government will be launched on November 27, according a PTI report.
The facility will be launched by Indian Home Minister Rajnath Singh and Tourism Minister Mahesh Sharma at a function in Delhi, the news agency cited a senior Tourism Ministry official as saying.
The list of 28 countries also includes, the US, Brazil, Germany, Thailand, UAE, Ukraine, Jordan, Norway and Israel.
To get an evisa, an applicant would need to apply on a website and pay the fees using a credit card. The electronic visa would be granted within 96 hours and a printout is needed to clear immigration controls at designated Indian airports. The designated airports are Delhi, Mumbai, Chennai, Kolkata, Hyderabad, Bengaluru, Kochi, Thiruvananthapuram and Goa.
Tourism
According to Russian travel industry sources, around 110,000 Russian tourists visited India in 2012, and more than 160,000 came to the country in 2013. The weakening rouble and difficult economic conditions has resulted in a reduced number of Russian tourists this year, but tour operators expect the numbers to pick up around the New Year Holidays, with last-minute travel now possible thanks to the simplified system.
Air India, which restarted flights on the Delhi-Moscow sector, has expanded the route to Goa.
The Association of Russian Tour Operators told TASS in February that the scheme would attract new sets of tourists since the evisa scheme offers a one-month single entry visa. Tourists will not be allowed to extend the visa, except in case of genuine emergencies. Russians applying for a tourist visa in an Indian diplomatic mission are eligible for six-month double-entry visas.
The Indian Ministry of External Affairs has traditionally maintained a reciprocal visa policy in the case of official and diplomatic passports, but has been more flexible with ordinary passport holders. The Indian Government has also been under increasing pressure from the tour operator lobby to allow unilateral simplified visa rules, to help the country compete with destinations such as Thailand and Malaysia.
Russian visa regulations have been simplified for Indian citizens but a reciprocal measure with evisas is not expected in the near future.
All rights reserved by Rossiyskaya Gazeta.