St Petersburg libraries working on Russian answer to Wikipedia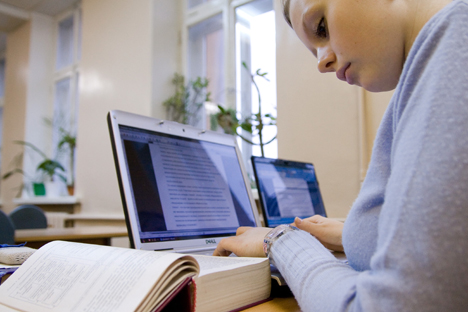 New resource 'not attempting to be a substitute,' say developers. Source: TASS/Denis Risunov
The creators will systematize, digitize, and grant open access to already existing material that covers all aspects of Russia's historical development.
The Presidential Library and National Library of Russia, both located in St. Petersburg, are working on a project that aims to become the Russian answer to Wikipedia. According to the Presidential Library's chief spokesman Valentin Sidorin, the creators will not be writing an e-encyclopedia from scratch; they will merely systematize, digitize, and grant open access to already existing material that covers all aspects of Russia's historical development.
"We have therefore started to create an alternative to Wikipedia. After analyzing this resource [Wikipedia], we realized that it's incapable of providing information about the Russian regions and the country's life reliably and in detail," Sidorin told RIR in an interview.
The new e-encyclopedia will be organized according to the principles of an electronic library. Not everyone will be able to make changes to it, just as not everyone can make changes to the contents of a book. "But it will be possible to complement it with other publications and sentences. We'll work with readers, we'll work with people, we'll actively cooperate with those who offer us new resources," said Sidorin.
Alternative to Wikipedia or just an encyclopedia?
Even though the future information resource about Russia will fundamentally differ from Wikipedia, the Russian media is depicting it as "an alternative to Wikipedia." This is mostly because of a statement made by Director of the National Library of Russia Anton Likhomanov, one of the brains behind the project.
In April 2014, while presenting the idea at a socio-pedagogical forum called Education in Russia, Likhomanov said that "around a million queries are submitted to the Russian language segment of Wikipedia per hour; however, the resource contains a lot of mistakes, and it's virtually impossible to make changes."
"Wikipedia is controlled from the United States, and at any moment we could face the same situation that just happened with the Visa and MasterCard payment systems," Likhomanov added, (a reference to the temporary blocks imposed on Russian cardholders in March by the payment companies) hinting that the Western sanctions against Russia could restrict access to the world's largest e-encyclopedia from Russia.
Even though the National Library of Russia chief repeatedly stressed that the new resource is intended to replace Wikipedia, Sidorin assured RIR that the project will not try to compete with the information giant. "We're not attempting to be a substitute for Wikipedia. We want to create an encyclopedia based on reliable sources," he said.
An uncertain future
Stanislav Kozlovsky, executive director of the Wikimedia Foundation (a non-profit organization that supports Wikipedia in Russia), described fears that the Western sanctions will affect the Russian-language version of Wikipedia as absurd.
"Wikipedia is created by more than a million Russians under a free license. Yes, the servers are located in the U.S., as well as in Europe and South-East Asia. There aren't any servers in Russia. But Wikipedia is in no way controlled by the American government. The U.S. authorities have not once attempted to restrict access to the encyclopedia in its entire history," Kozlovsky said.
According to Kozlovsky, several countries, including Russia, are trying to influence Wikipedia. "Seven completely innocuous Wikipedia articles were placed in the Russian register of banned websites. If anybody can close access to the electronic encyclopedia, it's Roskomnadzor [the federal body responsible for overseeing the media], not the State Department," he said.
Kozlovsky admitted that there are definitely mistakes on Wikipedia but added that there are 45 million people throughout the world constantly making changes to its contents and fixing those errors.
Executive Director of the Russian Association of Online Publishers, Vladimir Kharitonov, agreed with his colleague from the Wikimedia Foundation. "The level of errors on Wikipedia is comparable with that of the Encyclopedia Britannica," said Kharitonov. "The creators of the electronic encyclopedia about Russia didn't need to reinvent the wheel. It would have been better if they submitted their resources to improve the Russian-language Wikipedia."
Ivan Zasursky, who heads the Department of New Media at Moscow State University's Journalism Faculty, was even more categorical in his views on the future encyclopedia. He has doubts that it will ever see the light of day.
"As a rule, any attempt to create an 'alternative Wikipedia' is associated with controlling knowledge and its dissemination. It's not even a problem of whether or not the new encyclopedia would be objective. The problem is that there just won't be an encyclopedia. I'm convinced that this project is meant to siphon off funds," Zasursky said.
All rights reserved by Rossiyskaya Gazeta.