Okno space monitoring system returns after overhaul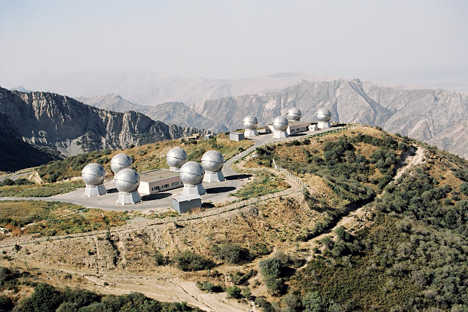 The Okno electro-optical space monitoring system on Mt. Sanglok, operated by the Russian Space Force. Source: ITAR-TASS / Oleg Davydov
The Russian Optical Electronic System for Space Monitoring was tested in Tajikistan following modernization, and returns to operation next week
Russia's Aerospace Defence Forces have completed modernization work on the Okno (window) Optical Electronic System for Space Monitoring in Tajikistan, which will return to operation on December 1.
In addition to the system's existing stations, four new optical electronic stations will locate space objects and collect their data. A state-of-the-art TV detection apparatus has also been installed. It contains modern computing resources that use Russian components, therefore excluding dependency on foreign parts.
According to Colonel Alexei Zolotukhin, spokesman for the Russian Aerospace Defence Forces at the Ministry of Defence, the perfected system "will help monitor the entire height range of space objects' orbits, and the possibilities regarding the detection of space objects, of data processing and of the Okno's throughput have greatly increased."
The Okno system is capable of detecting and monitoring space objects at a height range from 1,250 to 2,500 miles (up to geostationary orbits). When the new stationary radio-locator stations started functioning they expanded the system's capacity to monitor space.
Earlier, objects located in high orbits did not enter the detection zone of the radio-locator stations. The system's effectiveness is due to the possibility of working autonomously, without operators, and reporting information about new objects in real time.
The system works by scanning the sky with optical telescopes and simultaneously analyzing the data with computer systems that filter out the stars based on their speed, brightness and trajectory. The rest of the data is calculated, tracked and registered, saving the parameters of the satellite's orbits. Currently, the Okno system contains data on 9,000 space objects.
The location of the optical electronic system, at a height of 7,200 feet above sea level in the Sanglok Mountains of Tajikistan, was not chosen by accident. The area enjoys cloudless skies throughout the year, which makes observing space very effective. In an interview with the Krasnaya Zvezda newspaper, the director of the General Control Centre for Monitoring Space, Colonel Nikolai Nestechuk, said: "Of course, for the quantity of clear night hours, Nurek (the place where the system is located) is considered one of the best regions in the world. Russia does not have regions like this."
Even though Okno has been used since 2002, the issue of the system's proprietorship was decided only in 2004, when Russian President Vladimir Putin visited Tajikistan. In 2005 the legal details were finalized and ownership of the Okno hub was transferred to the Russian Federation.
At least ten other innovative space monitoring systems will be developed by 2018, with the first to be built in the Altai and Primorye Territories.
According to Alexei Zolotukhin, the introduction of the new Okno stations will substantially help expand the range of monitored orbits, since the new systems will locate objects that are two or three times smaller than the ones that the current system detects.
All rights reserved by Rossiyskaya Gazeta.