Kudankulam-1 to resume power generation next week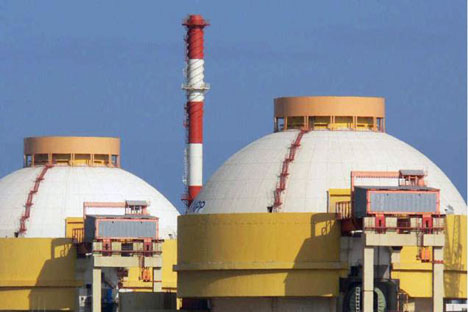 The first unit will be up and running by the first week of December. Source. Press Photo
Jitendra Singh, India's Minister of State for the Department of Atomic Energy said the repair work on the unit's turbine is nearing completion
The first unit of the Kudankulam Nuclear Power Plant (KNPP) will resume power generation by the first week of December, an Indian minister said in a written reply to a query in the parliament. Operations were temporarily halted in October when a malfunction was detected in the turbine of the unit.
"The unit was shut down in view of certain observations in its turbine during its operation," Jitendra Singh, India's Minister of State for the Department of Atomic Energy, told the lower house of parliament in a written reply to a query. "The power generation is now expected to resume by the first week of December 2014."
The minister added, "The turbine was opened and its various components have been inspected. The required repair/rectification job, in accordance with the recommendations of the Russian manufacturers, is nearing completion. Efforts are on to make the turbine ready for the start up by early December 2014."
The minister added that measures were being taken to avoid a repetition of such a scenario for the second unit of the plant, which should attain criticality in December.
The stoppage was for "an in-depth inspection and diagnosis of its turbine generator system," independent nuclear power expert Alexander Uvarov told RIR last month. "This is quite a routine step, often performed during placement of a unit into commercial operation, and before that, experts usually carry out the final testing stages, as they must feel confident that all equipment is working as it was designed."
The turbine generator of a nuclear power plant is not part of the so-called nuclear island of the plant. It is an ordinary piece of equipment similar to that commonly used in other, non-nuclear power plant.
The Kudankulam units comprise of 1,000 MW reactors of the VVER-1000 model being constructed by the NPCIL and Russia's Atomstroyexport company, a Rosatom subsidiary.
India signed a contract with the Soviet Union to build the Kudankulam plant in 1988, while the actual construction started only in 1997 due to due to the political and economic upheaval in Russia after the collapse of the Soviet Union in 1991.
Although, the plant has faced foreign-backed protests in safety issues, leading Russian, India and international scientific experts have vouched for the safety of the project. The experts have maintained that superior technology and exceptionally high quality equipment used in the reactors at the project made them unique in the global nuclear industry. KNPP is the first pressurized water reactor that belongs to the light water reactor category in India.
All rights reserved by Rossiyskaya Gazeta.