Sistema to install Wi-Fi hotspots at 3 Indian railway stations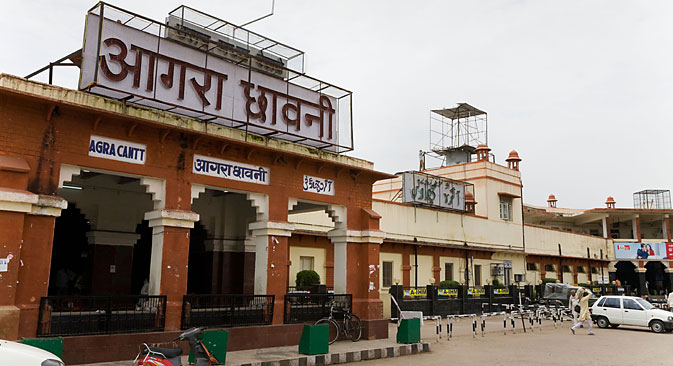 The Agra Cantonment railway station will have a MTS Wi-Fi hotspot. Source: Alamy Images
The hotspots will come up in 2015 at the main railway stations in Varanasi, Agra and Ahmedabad. The Russian company is also looking at providing wire free internet in the up-coming metro systems in Indian cities
AFK Sistema's Indian unit Sistema Shyam Teleservices Ltd (SSTL) will create Wi-Fi hotspots in three major railway stations in India, the Economic Times said on Thursday. The Russian company, which operates under the MTS brand in India, has entered into a tie-up with Indian Railways, according to the report.
"We have got approval for putting up Wi-Fi hotspots at Agra, Ahmedabad and Varanasi railway stations and are working on proof of concept," SSTL Chief Executive Dmitry Shukov told the paper in an interview.
The paper cited the Russian company as saying that the deal with the railways has just been signed, and it would be premature to comment on modalities and tariff at the moment.
SSTL, which introduced free Wi-Fi services in the Gurgaon Metro, would like to replicate this in cities such as Jaipur and Lucknow, where metro systems are being built, the paper said. The Russian company initially provided free Wi-Fi access to commuters for six months before charging them.
"We are exploring opportunities so that success at Rapid Metro, which was experimental, can be reproduced," Shukhov told the paper.
The Russian company is also looking at the Mumbai metro, of which three new lines will be constructed over the next 6 years. The only active line of the Mumbai Metro was built by the Anil Ambani Reliance Group and has Reliance Wi-Fi connections. The Moscow Metro constructor is incidentally looking to build the third line of the Mumbai Metro, an underground route connecting the north and south of the city.
Smart Cities
Earlier this month, India and Russia agreed to finalise the proposal for establishment of a 'Smart City' in India by Sistema. The details of this project will be revealed once the formal agreement is signed during the annual Indo-Russian bilateral summit, which will most likely be held on December 11-12 in New Delhi.
Indian Prime Minister Narendra Modi has called for the creation of 100 smart cities in India. So far $1.2 billion has been allocated for the project. Sistema is already in the process of constructing a smart city on the outskirts of Moscow.
All rights reserved by Rossiyskaya Gazeta.