Putin's India visit: Focus on economic ties, joint civilian aircraft production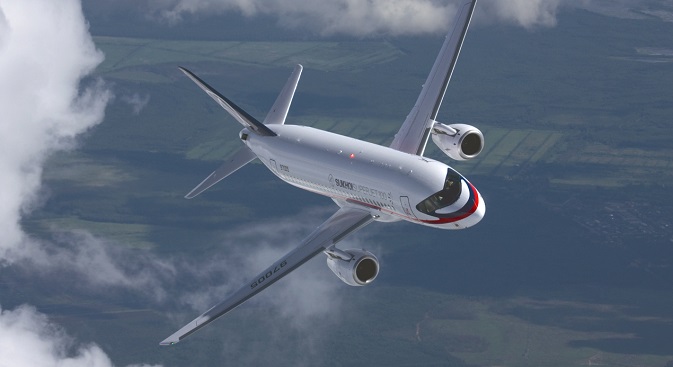 UAC is planning to sell in India about 100 passenger aircraft by 2030. Photo: Sukhoi Superjet 100. Source: Sukhoi
Russian President Vladimir Putin's visit to India next week is expected to impart the much-needed momentum to enhancing economic relations, with the spotlight likely on a plan for the joint manufacture of civilian aircraft, says Debidatta Aurobinda Mahapatra.
As India is looking forward to welcome Russian President Vladimir Putin, the expectations are indeed high. Among political, strategic and other components of bilateral relations, economic cooperation will be a key focus during the visit. During the visit, the two countries are expected to signal an upswing in their robust ties with some important announcements and agreements.
Among various "priority" areas of economic cooperation, the spotlight will be likely on the plan for the joint development and production of civilian aircraft. Already, both countries have identified civil aviation as a priority area, and a sub-group of a working group is already fleshing out details of cooperation. This area of cooperation will help diversify bilateral economic relations. It will also challenge, and balance, the domination of civilian aircraft markets by the companies based in Europe and the US.
The number of air passengers in India within the last decade has grown manifold with an increase in the number of private airliners to cater to the demands of India's growing middle class. While 2013-2014 witnessed 169 million air passengers, the number is likely to cross 400 million by 2020. Hence, the Indian civilian aircraft sector can be a lucrative commercial venture for Russian companies. Russia has many a time expressed interest in India's civil aviation sector. In 2010, Russia's United Aircraft Corporation (UAC) signed agreements with three Indian companies for the delivery of eight passenger aircraft worth $400 million. During the air show at Hyderabad in India in 2012, Russian aircraft like Sukhoi Superjet 100 (SSJ100) and MS-21 planes were displayed. SSJ100 is medium-haul airliner, available for 75 to 95 seat configuration, while MS-21 is relatively a low-cost aircraft, available for 150 to 220 seat configuration. Says the president of UAC, Mikhail Pogosyan: "We are planning to sell in India about 100 passenger aircraft by 2030, which will account for 10 percent of the Indian market of airliners in the segment". "The unprecedented scope of Russian-Indian cooperation in military aviation has created a scientific and engineering basis for undertaking joint projects in civil aviation," he added.
During his visit to India in 2012 to participate in the meeting of the Indo-Russian Inter-Governmental Commission for Trade, Economic, Scientific, Technical and Cultural Cooperation (IRIGC-TEC), Russia's Deputy Prime Minister Dmitry Rogozin expressed interest in joint manufacturing of civilian aircraft. The Russian interest was reiterated during the visit of India's then External Affairs Minister Salman Khurshid to Moscow in May 2013. Last month, India's Minister for Commerce and Industry Nirmala Sitharaman revealed before the lower house of the Indian parliament that Russia is interested in the production of helicopter, light transport aircraft and civilian aircraft in India with Russian technology.
Among the BRICS countries, India does not have indigenous civilian airplane manufacturing capability. Russia can help contribute to the fruition of 'Make in India' campaign launched and popularised by India's Prime Minister Narendra Modi.
This is possible as Russia has expertise in building civilian aircraft. There are already instances of joint design, development and production of military warfare systems. The supersonic missile BrahMos is a well-known example.
The India-Russia cooperation in defence aircraft is deep, but in the case of civilian aircraft it is dismal. Perhaps the visit of President Putin will be an opportune moment to correct this asymmetry and develop a mutually beneficial deal in this field. India's keenness to buttress cooperation is reflected in Modi's assertion, during his meeting with Rogozin last month, that India accords "very high importance to the time-tested and the special and privileged Strategic Partnership with Russia." This spirit needs to be translated into action in priority economic areas. Modi has already visited Russia thrice before being prime minister. His experience will help bolster the relations and deepen cooperation in priority areas including civilian aircraft.
India's joint secretary in charge of Eurasia, Ajay Bisaria, observed in October 2014 that the signing of the comprehensive economic partnership agreement with the Russia-led Customs Union will bring India "closer to this unifying space (Eurasia)". One can add to this the cooperation in the area of civilian aircraft. It is possible that the civilian planes built with joint cooperation fly over this vast landscape connecting Russia and India, and other countries in between. While the space over sky can be made closer through jointly built civilian planes, on the ground the routes like the north-south corridor or the oil pipelines can further strengthen and infuse meaning to this "unifying space". Communication is the buzzword in the new age, and civilian aircraft can help foster communication between the two countries.
The cooperation in this sector will have many other implications. Besides enhancing communication between the two countries, it will also help Russia divert its resources and innovative technology to a friendly country. Russia has recently added gravitas to its Asia-Pacific and South Asia policy, and India is a key partner in this endeavour. Besides cooperation in the areas of energy, mining, fertiliser, diamonds and infrastructure, the cooperation in civilian aircraft building will help develop a comprehensive economic agenda not dominated by the old patterns.
Russia's investment in India from April 2000 to July 2013 is $ 468.5 million, as per a report. Similarly, India's investment in Russia is not very encouraging. Certainly, the time has come that the two countries focus more on economic relations. Putin's visit will be quite crucial from this perspective. The 'economic vision,' as developed during the 20th IRIGC-TEC meeting last month, will likely gain concrete shape during President Putin's visit, with the signing of deals in priority areas including civilian aircraft building.
Dr. Debidatta Aurobinda Mahapatra is an Indian commentator. His areas of interests include conflict, terrorism, peace and development, South Asia, and strategic aspects of Eurasian politics.
All rights reserved by Rossiyskaya Gazeta.