Indian companies eye sizable investments in Russian energy sector- Dharmendra Pradhan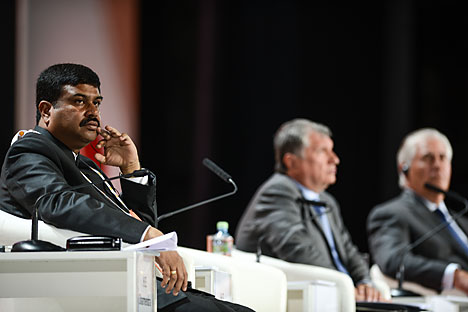 Dharmendra Pradhan at the 21st World Petroleum Congress in Moscow. Source: Vladimir Astapkovich/RIA Novosti
In an exclusive interview ahead of the 15th annual Indo-Russian summit the Indian Minister of State (Independent Charge) for Petroleum & Natural Gas spoke to RIR about the prospects of Indo-Russian energy cooperation
How do you assess the current cooperation between India and Russia in oil and natural gas sector? What are the main projects now?
Indo-Russian cooperation in the hydrocarbon sector has strong roots which go back to the Soviet days when hundreds of the Soviet specialists came to India to establish the independent hydrocarbon sector in India. After the Soviet disintegration in the new era, ONGC made a breakthrough into the Russian hydrocarbon sector through entry into the prestigious Sakhalin 1 Project. The project is a huge success and continues to pay rich dividends to all the stakeholders.
Thereafter, ONGC Videsh acquired Imperial Energy which is experiencing some difficulties primarily due to the fiscal regime in Russia, which is also acknowledged by the Russian specialists as not very conducive for development of remote small fields with hard to recover oil. ONGC Videsh has approached the Russian Government for adequate tax reliefs so as to continue development of the project in the interest of both the countries. To keep the company economically viable tax exemptions have been requested in the past and we hope to see some development on this front.
It was reported earlier that during the visit of Russian President Vladimir Putin to India several agreements related to joint production of oil in Russia would be signed? Can you tell us more about these agreements?
The Indian companies are desirous of making sizeable investments in Russia over and above the current investments made in the country so far. The primary motivation to Indian companies would be to bring equity oil and gas to India. Some of the offered opportunities involve resolution of tax and pipeline issues. Once the same are resolved, India is keen to infuse billions of dollars into East Siberia and other areas.
Vankor field, where ONGC Videsh is ready to immediately take a 25%+1 share has since been withdrawn by Rosneft. We have approached Rosneft to reconsider its decision.
Indian companies have invested about $5 billion in development of oil fields in Russia, e.g. Sakhalin -1 Project and oil fields in Tomsk region. What about Russian investment. Is the Indian Government interested in attracting Russian companies to develop some sites in India?
I have been informed that ONGC Videsh has so far invested over $8 billion, by far the largest investments it has made in any country.
We are equally keen to attract Russian investments in the Indian hydrocarbon sector but the Russian companies instead are keener to offer their inputs through service contracts. They are welcome to participate in the International tenders for a large number of services and equipment India imports.
Is India interested in cooperation with Russia in petrochemical sector? What experience in this area do we have by now?
Indian companies have interest for business opportunities in the downstream sector of natural gas value chain (pipelines, gas processing & gas based petrochemical projects) in Russia subject to commercial viability.
Pipeline transport is the cheapest in the world. As the cooperation between our countries is actively developing, both sides started talks about oil pipeline from Russia to India. What is the current status of this idea? Is this still being discussed?
There is good potential for constructing both oil and gas pipelines from Russia to India. We have already expressed our keenness for such pipelines. It is logical that vast hydrocarbon reserves of Russia are connected to a huge growing market like India. Both sides are discussing the ways and means to take this forward.
This interview has been condensed and edited for clairty
All rights reserved by Rossiyskaya Gazeta.